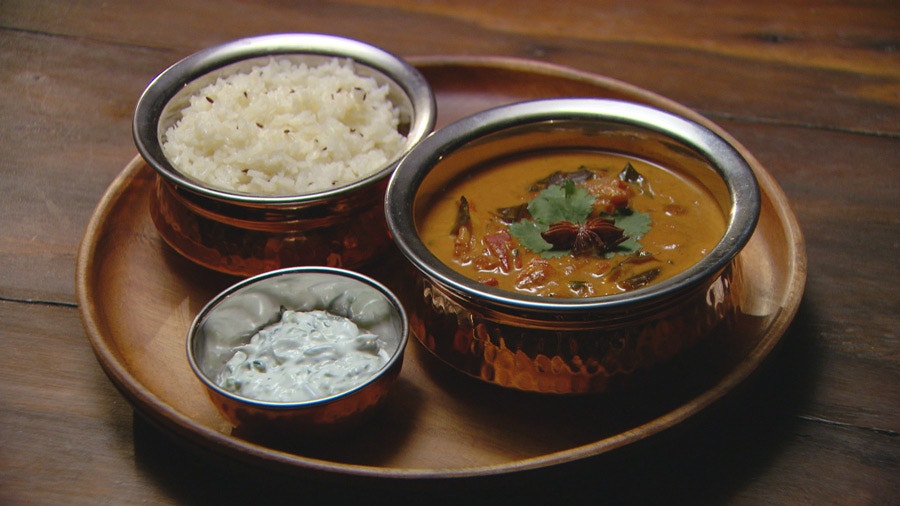 Ingredients
Coconut Cream and Cucumber Raita
Steps
For the Cumin Rice, bring 3.5 cups of water to the boil in a medium saucepan and season generously with salt. Wash the rice and place into the saucepan of hot water. Cook the rice until soft, about 12 minutes. Drain in a colander then return the rice to the saucepan.
Meanwhile, toast the cumin seeds in a small frypan over medium heat for 1-2 minutes, until fragrant. Add the ghee and cook until bubbling and fragrant. Remove from the heat and add to the cooked rice and mix gently with a fork. Cover saucepan and set aside.
For the Prawn Stock and Prawn Curry, peel the prawns, leaving the tails intact and reserve the shells and heads. Devein the prawns and set aside.
Place the oil into a large frypan and place over high heat. When very hot, season the prawns and add to the pan in two batches. Cook the prawns for one minute on each side. Remove from the pan and set aside for the curry.
For the Prawn Stock, bring 2L of water to the boil.
Heat oil in a large deep frypan and add the ½ prawn heads and shells to the frypan and cook, stirring occasionally, until bright red and slightly golden.
Remove the pan from the heat. Transfer the heads and shells to the saucepan of simmering water and reserve the oil in the frypan. Add remaining stock ingredients to the saucepan and return to the boil. Reduce heat and allow the stock to simmer on low heat.
For the Prawn Curry, return the frypan with the reserved oil to a medium heat. Add cumin seeds and cook until fragrant. Add the onions to the pan and cook, stirring until golden brown, about 4-5 minutes. Add the tomatoes and cook until tomato begins to soften, about 2 minutes then add the ginger and garlic followed by the curry leaves and dry spices. Cook, stirring until fragrant, about 2 minutes.
Meanwhile, strain the prawn stock through a fine sieve and reserve 3 cups of liquid. Discard the solids. Add the strained prawn stock to the frypan, followed by the coconut cream. Bring to the boil then simmer until reduced and thickened, about 15-20 minutes. Add the prawns to the frypan and return the liquid to the boil then remove from the heat. Season with salt, to taste.
For the Coconut and Cucumber Raita, coarsely grate the cucumber into a sieve placed over a medium bowl. Add the salt to the cucumber and toss through. Set aside for 10 minutes then gently squeeze the cucumber to remove excess water.
Transfer the cucumber to a small bowl. Add the coconut cream and lime juice and mix to combine. Season with salt, to taste.
To serve, place Cumin Rice and South Indian Prawn Curry into separate serving bowls. Garnish curry with coriander leaves. Serve with Coconut and Cucumber Raita on the side.