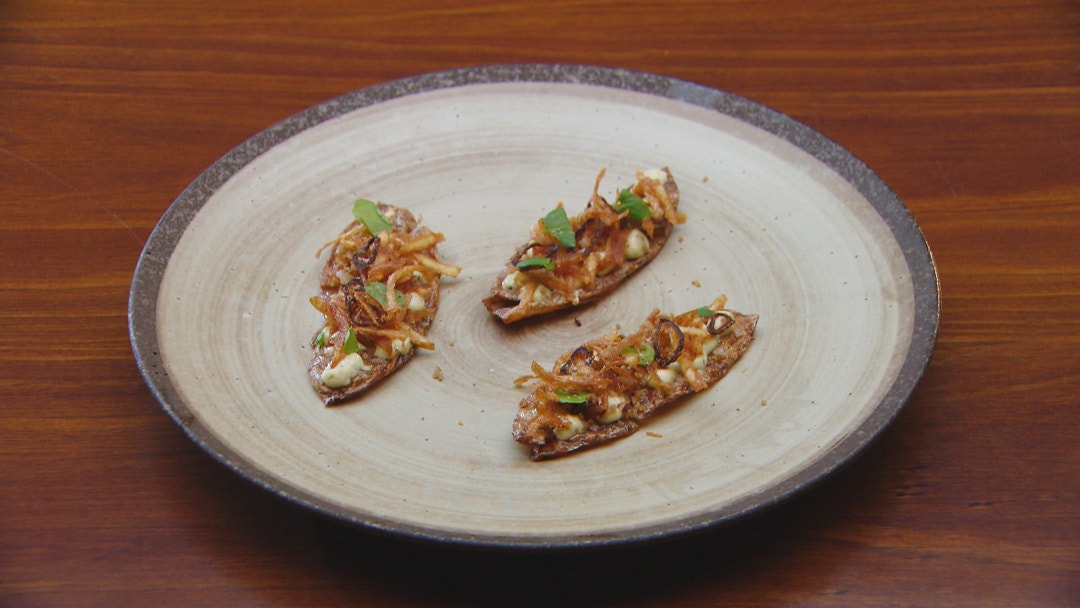 Ingredients
Chicken and Shallot Crumb
Steps
Preheat oven to 200C. Preheat oil in deep fryer to 180C.
For the Potato Skins, wrap each potato in foil and cook into the oven until tender, approximately 50 minutes. Remove potatoes from oven and cut into quarters.
Remove as much potato from the skin as possible, taking care not to break the skin. Cook skins in deep fryer until golden brown.
Remove from the oil and drain on paper towel. Fry once or twice more until skins are completely crisp. Remove from oil and season with salt while hot.
For the Chicken and Shallot Crumb, place chicken skin onto baking paper and place in freezer. Remove when frozen and place into food processor and process until crumbly in appearance.
Place chicken skin into a saucepan and add enough water to just cover the skin.
Bring water to the boil and allow to liquid to reduce and fat to render out from the skin. Once the water has evaporated, cook the skin until golden brown and crispy. Remove from the oil and drain on paper towel. Season with salt to taste.
Peel the potato and grate coarsely. Place into the deep fryer and cook until golden and crispy.
Remove from the oil and drain onto paper towel and salt.
Peel and finely slice shallots. Fry in the hot oil until golden brown. Remove from oil and set aside on paper towel. Combine chicken skin, crispy potato and shallots in a bowl together, breaking apart some of the potato to form a crumble.
For the Gribiche, place whole egg in its shell into saucepan with enough water to cover egg. Allow to come to the boil and simmer for 1 minute.
Crack egg into the canister of a stick blender. The eggwhite should be slightly cooked and translucent and the yolk runny.
Slowly add the grapeseed oil and using a stick blender, process until thickened. Add the remaining ingredients and blend until smooth. Transfer to a piping bag.
To serve, arrange potato skins onto a plate. Pipe gribiche into small dots over potato skins. Place generous amount of crispy crumb over the top. Garnish with watercress and season lightly with white pepper.