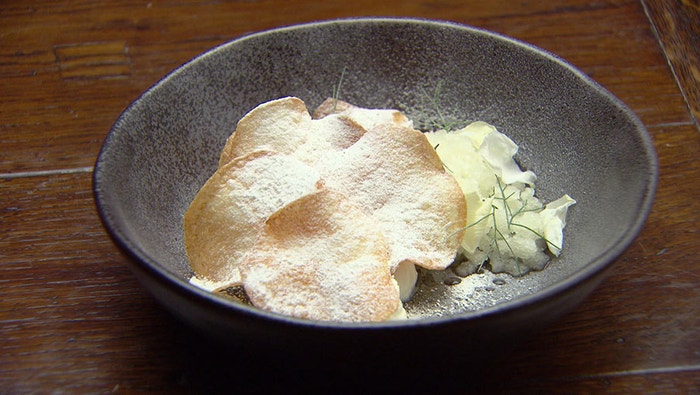 Steps
For the Potato Cream, place potatoes, cream, milk, sugar and bay leaves in a saucepan and set over medium heat. Simmer until potatoes are tender about 15-20 minutes. Remove from heat and strain through a sieve, reserving liquid and discarding solids. Add gelatine to the liquid and stir through. Place in fridge until cold.
Once cold, use electric hand beaters to whip mixture until light and fluffy. Transfer to a piping bag and set aside in the fridge until serving.
For the Ginger Granita, pass ginger through a slow juicer to extract 65ml juice. Mix with sugar and 200ml water and place into a shallow baking tray. Place in freezer to set then scrape surface with a fork. Return to the freezer and repeat process until an icy granita is formed. Store in freezer until serving.
For the Fried Potato, heat oil in a medium saucepan to 150C. Peel potatoes then slice into 1mm thick slices using a mandolin. Wash slices under cold running water and pat dry. Fry, in batches, until golden and crisp. Remove from oil and set aside on paper towel, to drain, until serving.
For the Rosemary Sugar, place icing sugar and rosemary in a food processor and process until fine. Pass through a sieve and set aside until serving.
To serve, pipe Potato Cream onto serving plates. Add some Fried Potato and dust with Rosemary Sugar then finish with some Ginger Granita.