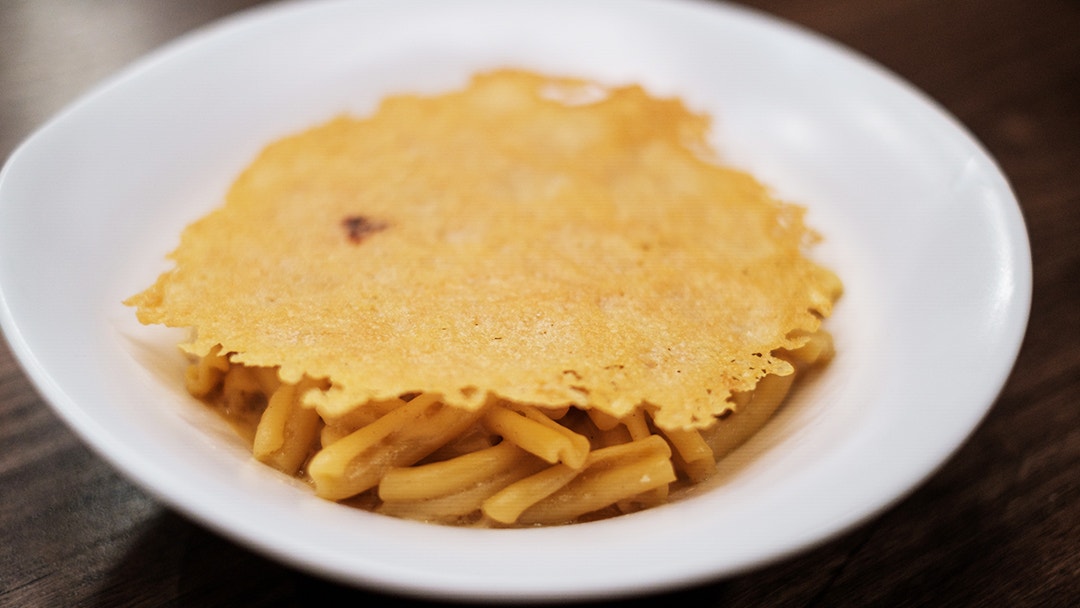 Ingredients
Macaroni Porky Cream Sauce
Steps
Bring a large saucepan of generously salted water to the boil. Cook casarecce according to packet instructions. Drain and set aside.
For the sauce, dice the speck and pancetta and transfer to a food processor. Pulse to a rough paste then transfer to a medium frypan and place over medium heat. Add shallots and garlic and cook until browned and fat has rendered out. Stir in flour and cook until bubbling. Add the wine and scrape the base of the pan. Stir in milk and thickened cream. Simmer until thickened slightly, about 5 minutes. Strain through a large sieve into large saucepan.
Return saucepan to a medium heat and stir in cardamom, nutmeg, black and white pepper. Simmer until the cream has thickened, about 5 minutes. Stir through mustard and miso. Remove pan from the heat and stir through gruyere and cheddar. Season with salt, to taste.
Add the cooked casarecce and stir gently to coat in the sauce.
For the Parmesan Crisp, heat a non-stick pan over medium heat. Sprinkle one quarter of the grated Parmesan into the centre of the pan and cook until golden brown, about 3 minutes. Remove from the pan and drain on kitchen towel. Repeat with remaining Parmesan.
Serve pasta in bowls and garnish each with a parmesan crisp.