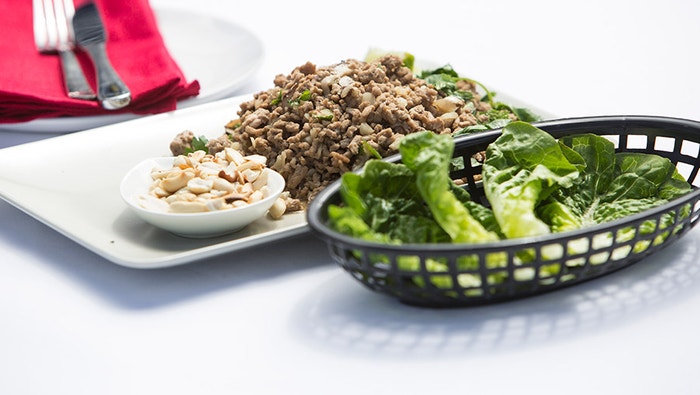 Steps
Preheat oil in deep fryer or medium saucepan to 180C.
For the Ginger Floss, slice ginger finely using a mandolin. Finely shred ginger and deep fry until crispy. Drain on kitchen paper and set aside.
For the Chilli Peanuts, place peanuts into a small frypan and place over a low heat. Cook until golden. Add chilli powder and stir through. Remove from heat and transfer to a clean tea towel and wrap to enclose peanuts. Allow to cool slightly then rub tea towel around peanuts until skins come off. Remove peanuts, season, chop roughly and set aside.
For the dressing, combine fish sauce, brown sugar and lime juice in a small bowl and mix with a whisk until well combined. Set aside.
For the mince filling, heat a large frypan or wok and add 2 tablespoons oil. Add shallots, garlic and ginger then shitake and water chestnuts until just cooked. Season to taste. Remove from heat and allow to cool slightly. Stir through 150ml dressing. Add herbs, stir through and transfer to a large serving plate. Drizzle with remaining dressing then top with Ginger Floss and Chilli Peanuts and place lettuce leaves to the side of the mince.