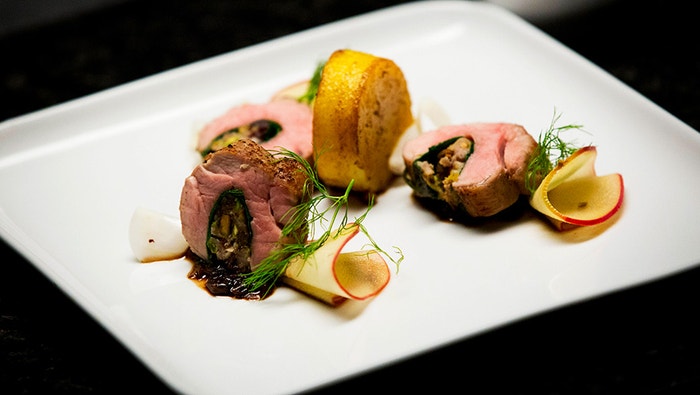 Steps
Fill sous vide machine and set to 64C. Preheat oven to 220C.
For the Pork Fillet, butterfly pork fillets and set aside.
Place pistachios in a small frypan over medium heat and toast off until just golden but not burnt, about 3-4 minutes. Remove from heat, place into a mortar and pestle and grind to a coarse crumb.
Place a small saucepan of water over medium heat and bring to the boil. Set up a bowl of iced water. Once water is boiling, add spinach leaves for 15 seconds then remove and plunge into the bowl of iced water. Drain well and set aside.
Place pork mince, apple, cranberry, ground pistachios, salt and pepper in a bowl and mix well to combine. Lay a 30cm piece of cling film onto a clean work surface. Place a butterflied pork fillet, cut side up, into the centre of the cling film. Lay blanched spinach leaves onto the cut side of the butterflied pork fillet. Spoon the pork mince mixture in a strip along the middle crevice of the butterflied pork fillet then roll up the pork tightly to form a cylinder. Season the outside of the pork with salt and pepper. Roll up the pork piece tightly in cling film, twisting each end tightly and tie in a knot to seal. Repeat this process with remaining pork fillets.
Place sealed pork roulades into the preheated sous vide machine and cook for 40 minutes. Remove from water bath and unwrap cling film. Heat butter in a large frypan over medium heat then add pork roulades. Fry off roulades until golden brown on all sides then remove from pan and set aside to rest. Reserve pan off the heat for later use.
For the Pork and Cider Jus, heat a large sauté pan over high heat. Add oil, onion and garlic and sauté until softened. Add apple, fennel, carrot, celery, bones and sage and fry off until caramelised, about 10 minutes. Add cider to the pan to deglaze then add 200ml of water, reduce heat to low and simmer for 25 minutes. Remove from heat and strain juices through a fine sieve into a clean medium saucepan. Cook on medium heat until reduced and thickened, about 30 minutes, then remove from heat. Whisk in butter until melted then set aside, keeping warm.
For the Saffron Fondant Potato, place saffron and chicken stock into a small saucepan over low heat and bring to a simmer. Meanwhile, use an 8cm scone cutter to push through the middle of each potato. Trim remaining skin from the potato to leave a perfect 4cm tall cylinder of potato.
Set 4 x 9cm wide by 7cm tall ramekins onto a baking tray. Place a slice of butter into the bottom of each ramekin then add a cylinder of potato and top with another layer of butter. Pour in the saffron stock and place into the oven to bake until tender, about 35-40 minutes. Remove from oven and gently lift out the fondant potatoes. Reheat reserved pan from pork fillet and add fondants. Fry for one minute on each side until golden. Remove from heat and set aside in the pan.
For the Pork Crackle, season the inner side of the rind with salt and cut into 12 even sized strips. Line a baking tray with baking paper then lay the strips onto the tray. Top with a second sheet of baking paper then top with a second baking tray to weigh down then place into the oven until crisp, about 18-20 minutes.
For the Pickled Apple and Fennel, place shaved apple and fennel into a small bowl. Combine remaining ingredients in a glass bowl and microwave for 1 minute to dissolve sugar. Pour hot pickling liquid over the shaved apple and fennel and set aside to pickle.
For the Onion Jam, place a medium non-stick frypan over low heat. Add oil and onion and cook, stirring often, until softened, about 12-15 minutes. Add sugar and stir in until dissolved. Add balsamic and cook for a further minute. Stir through 1 tablespoon of water to moisten the jam then remove from heat.
To serve, slice Pork Fillet into 3 evenly sized pieces. Place 3 dots of the Onion Jam onto the plate. Place Pork Fillet pieces onto the dots of jam. Place a Saffron Fondant Potato in between two of the pieces of the pork. Place some pieces of Pickled Apple and Fennel in between the pork pieces. Sit a strip of Pork Crackling onto each piece of pork and finish with some fennel fronds. Serve Pork and Cider Jus in a jug on the side.