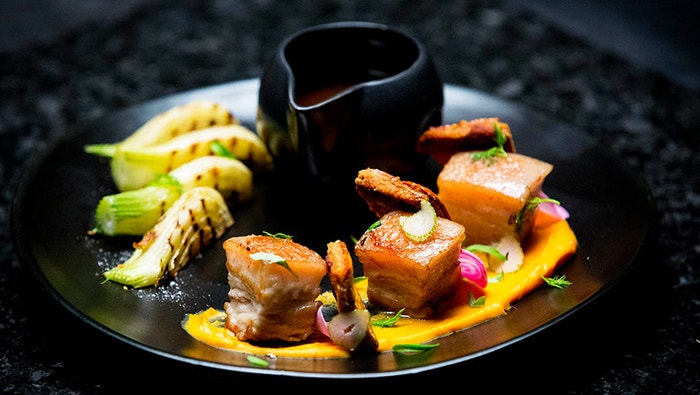 Steps
Preheat oven to 240C.
For the Pork Belly, remove skin from pork belly and set aside on a baking tray lined with baking paper. Place remaining piece of pork belly into pressure cooker and add stock, fennel, cinnamon and star anise. Cook for 35 minutes on high pressure. Remove from pressure cooker and transfer to a baking tray lined with baking paper. Top with a second sheet of baking paper, place a second baking tray on top to weigh down, then transfer to freezer to firm, about 30 minutes.
Heat a medium frypan over medium heat. Remove pork belly from freezer and add to the pan. Fry on both sides until golden then set aside in the pan until needed.
For the Pork Crackling, pat pork belly skin dry with paper towel to remove excess moisture and rub with salt. Bake in the oven until crisp, about 20-25 minutes. Remove from oven and set aside until needed.
For the Pickle, place vinegar, sugar and 90ml of water in a small saucepan over medium heat until sugar has dissolved. Remove from heat and set aside to cool.
Place sliced fennel and beetroot into a small bowl. Once pickling liquid has cooled, pour over the vegetables and set aside to pickle until needed.
For the Sweet Potato Purée, place a large saucepan of water over high heat and bring to the boil. Once boiling, add sweet potato and cook until tender, about 20 minutes. Drain sweet potato well then transfer to a medium bowl. Add cream and butter then use a stick blender to purée until smooth. Season with salt and pepper, to taste, and set aside.
For the Caramel Vinegar Sauce, combine sugar, vinegar, star anise and cinnamon in a medium sized saucepan over medium heat and cook until sugar has dissolved. Stir in the chicken stock and simmer until slightly reduced, about 5 minutes. Reduce heat to low, add orange peel and juice, and cook until sauce has reached a syrup consistency, about 8-10 minutes. Strain then transfer to a jug and set aside until needed.
For the Chargrilled Baby Fennel, place fennel into a large bowl. Add olive oil and season with salt and pepper then toss to coat. Heat a griddle pan over medium heat. Add fennel pieces and grill for 7 minutes on each side. Remove from heat and set aside until needed.
To serve, smear some Sweet Potato Purée on the left hand side of the plate. Cut Pork Belly into 12 even sized cubes and place 3 cubes on top of the purée on each plate. Break up Pork Crackling into small pieces and arrange some in between the cubes of pork. Top pieces of pork with some of the Pickled vegetables and fennel fronds. Arrange Chargrilled Baby Fennel on the right hand side of the plate. Serve with jug of Caramel Vinegar Sauce on the side.