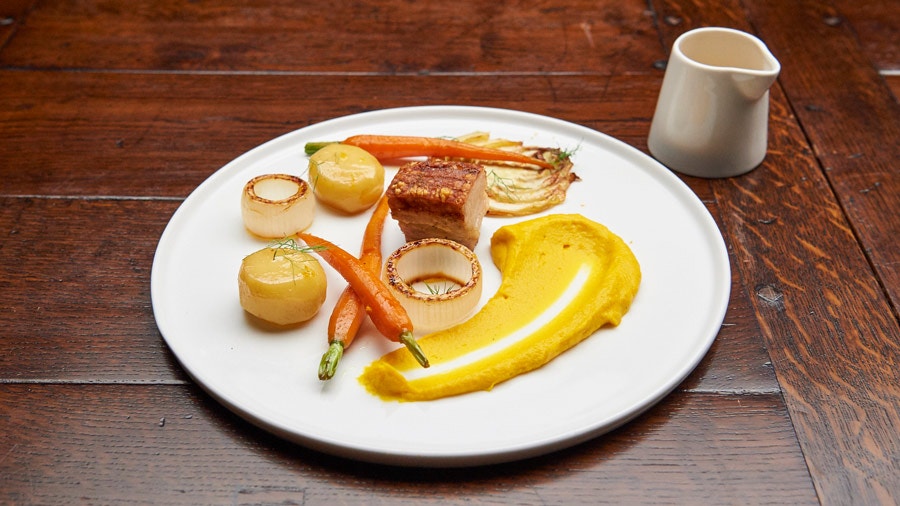 Steps
Preheat the oven to 250C.
For Pork Belly, dry the skin of the pork with paper towel. Rub the pork with ground fennel, salt and pepper. Cut into 6cm x 3cm rectangular portions and place into a 20cm x 20cm deep baking dish. Cook in the oven for 20 minutes.
Reduce the oven to 200C.
Remove the pork from the oven and pour enough milk around the pork so that it reaches just below the skin. Return to the oven and cook until pork is tender, a further 40 minutes. Remove from the oven and set aside to rest.
Reduce the oven to 180C.
For the Pork and Orange Jus, place the pork fat into a small saucepan over a medium heat. Cook until fat has begun to render. Add the onion and garlic and sauté until browned, about 2-3 minutes.
Add the Cointreau and simmer until reduced by half. Add the remaining ingredients along with 125ml water and simmer until reduced, about 20 minutes. Season with salt. Strain through a fine sieve and transfer to a small serving jug. Cover and keep warm.
Reduce oven to 180C.
For the Confit Fennel and Onions, slice the fennel lengthways and the onion widthways into 1.5cm thick slices. Place each into separate small deep baking dishes and cover each with 1 cup of olive oil.
Cover each dish tightly with foil and place onto an oven tray. Cook in the oven until tender, about 30 minutes. Remove from the oven and set aside.
For the Carrot and Orange Puree, combine all ingredients, except the butter and cream, and 100ml water into a small saucepan.
Cover with a lid and place over a medium heat and cook until carrots are tender, about 12-15 minutes. Discard the rosemary and orange rind and transfer the contents of the saucepan to a food processor. Add the butter and cream and process until smooth.
Pass through a sieve into a small bowl. Season with salt and set aside.
For the Candied Orange Carrots, place the ingredients along with 125ml of water into a medium frypan. Simmer over a low to medium heat until the carrots are tender and caramelised, about 15-20 minutes. Remove from the heat and set aside.
For the Fondant Potatoes, cut the potatoes into 2cm thick rounds. Place into a medium saucepan along with the remaining ingredients and cover with a circle of baking paper. Place over low heat and simmer gently until potatoes are tender, about 15-20 minutes.
To serve, spoon some Carrot and Orange Puree onto the plates. Top with some Confit Fennel and Onion, some Candied Orange Carrots, Pork Belly and Fondant Potatoes. Serve with the Pork and Orange Jus on the side.