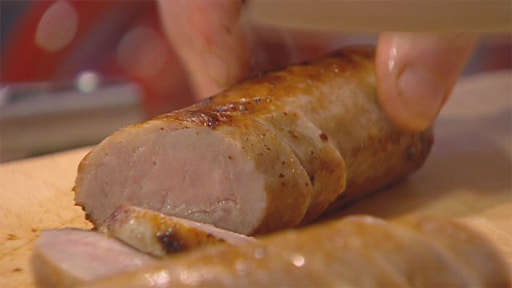 Steps
Marinate the pork shoulder and fat, overnight with salt, pepper.
Next day, mince marinated meat through the coarse plate of a mincer. Add to this the cider and grated apple, and mix well.
After flushing the casings we like to keep them in a bowl of warm water next to the sausage stuffier.The warm water keeps the casing lubricated when you feed it onto the stuffing horn. Select the stuffing horn that is best suited to the thickness of the casing you are using. Find the end of a casing and slip thisover the end of the stuffing horn.
Push the casing over the stuffing horn towards the sausage stuffier, so that it forms an accordion-likepleat. Keep the casing wet throughout this process or it will not slide back on the stuffing horn very easily. Leave some of the casing hanging over the horn
Start stuffing the sausage meat into the casing. You will need to regulate the flow of sausage into the casing, which will determine how tightly packed the sausage is. If you try and pack the sausage too tightly the casing will burst. If the casing does burst, tie it off at that point and start again.
To regulate the flow of sausage hold the casing on the stuffing horn with your thumb and forefinger. Increasing or decreasing finger pressure on the casing will determine how tightly and consistently the sausage is packed.
As the sausage comes out of the stuffing horn, you can tie the ends at regular intervals or make links by twisting the sausage.
After stuffing the sausage into the casings, we like to hang the sausage. This allows the casings to dry properly as well as gives the flavours in the sausage time to develop.