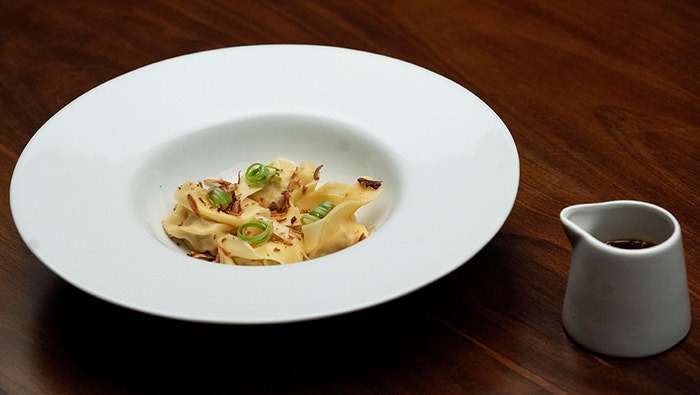 Steps
For the Chilli Oil, place all of the ingredients except the oil into a small bowl and set aside.
Place the oil into a small saucepan over low heat until temperature reaches 150C, about 4-5 minutes.
Remove from the heat and pour over the chilli mix. Set aside to infuse.
For the Szechuan Sauce, place all ingredients into a small bowl and mix together. Set aside. Remove the star anise and cinnamon to serve.
For the Pork and Prawn Dumplings, place the flour, egg, egg yolk and a pinch of salt into the bowl of a stand mixer fitted with a hook attachment. Mix on low speed while slowly adding up to ¼ cup water until a soft dough comes together.
Remove dough from the mixer and wrap in cling film. Set aside to rest for 20 minutes.
For the filling, place the pork and the prawns into the bowl of a food processor and pulse until finely minced. Transfer to a medium bowl along with the remaining ingredients and mix together by hand until thoroughly combined.
Divide the dough into 4 portions. Pass each portion through a pasta machine until almost the thinnest setting. Lay the sheets onto a lightly floured bench. Cut the dough into 8cm x 8cm squares and cover with a clean tea towel.
Bring a large saucepan of salted water to the boil.
Place 1 heaped teaspoon of the filling on one corner of each square of dough. Fold the corner of the wrapper up to cover the filling and press into the centre of the square to form a rough triangle. Take the two corners opposite to the tip of the triangle and bring them together around the filling. Pinch the corners together to seal so the dumpling forms a boat shape.
Cook the dumplings, in batches, in simmering water for 5-6 minutes until filling has cooked through and the wrapper is soft.
To serve, place dumplings into the centre of a serving plate. Top with spring onion curls and fried shallots. Spoon a generous amount of Szechuan Sauce over the dumplings and serve immediately.