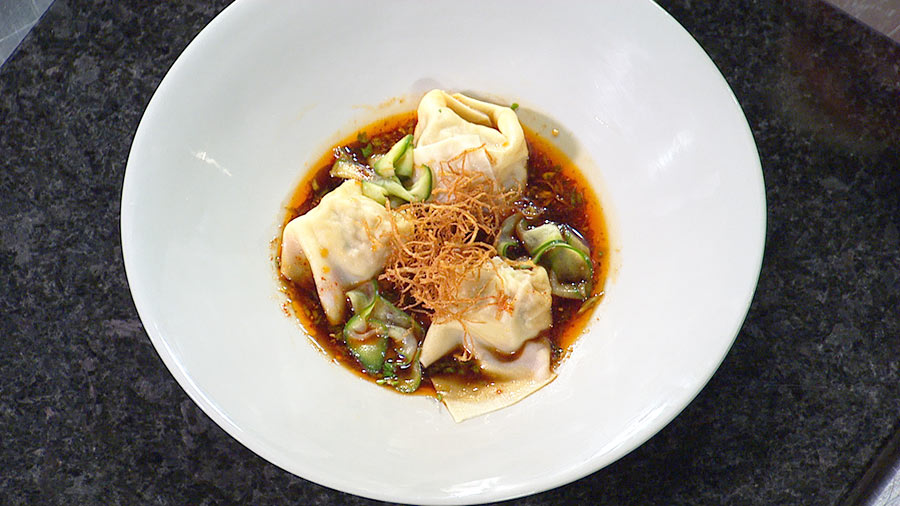 Steps
For the Wonton Wrappers, place 00 flour, eggs and salt in a medium bowl and use chopsticks to mix together. Gradually add in 4 tablespoons of warm water and continue to mix until dough comes together. Dust a clean work surface with cornflour and turn dough out onto the floured surface. Knead until dough is elastic, about 6-8 minutes.
Dust the mixing bowl with a little more cornflour. Place the kneaded dough back into the bowl and cover with cling film. Set aside on the bench to rest for 30 minutes.
Once rested, dust a clean surface with some more cornflour and turn out dough. Knead dough for another 2 minutes. Divide dough into 4 portions. Dust portions with cornflour and then flatten out into a rectangle. Feed the dough through the pasta machine on the thickest setting then continue to feed through to the thinnest setting. Lay sheet of pastry onto a lightly floured surface. Repeat this process with remaining portions of dough.
Cut pastry sheets into 10cm x 10cm squares. Lay squares on a tray and cover with cling film. Set aside until required.
For the Szechuan Chilli Oil, place peanut oil, garlic, ginger, star anise, cinnamon and coriander seeds in a medium saucepan. Place over low heat until oil becomes aromatic, careful not to let the ginger burn, about 18-20 minutes. Increase heat to high and cook for a further 2 minutes. Remove from heat and strain through a fine sieve into a clean bowl. Stir in chilli flakes and Szechuan peppercorns and set aside until needed.
For the Wonton Sauce, place all ingredients into a small bowl and stir well to combine. Set aside.
For the Sour Cucumber, place vinegar, caster sugar, garlic and salt in a small bowl and stir well until sugar has dissolved. Add cucumber ribbons, ensuring they are fully submerged in the liquid and set aside.
For the Ginger Floss, heat peanut oil in a small saucepan until hot. Add ginger and fry until golden and crisp, about 2-3 minutes. Remove from oil using a metal spider or slotted spoon and drain on paper towel.
For the Pork and Prawn Filling, combine all ingredients in a bowl and mix well to combine.
To assemble the Pork and Prawn Wontons, place 1½ teaspoons of mixture into the middle of each Wonton Wrapper square. Brush the edges of the square with water. Fold one corner of the wonton wrapper over the filling to onto the opposite corner to form a triangle. Press down to join all corners together and encase the filling, pressing down around the filling to remove any air pockets. Bring the two bottom corners of the triangle around the filling and press together to form a wonton.
Place a large saucepan of water over high heat and bring to the boil. Cook wontons in batches until al dente and cooked through, about 3 – 4 minutes. Use a slotted spoon to remove from water and place into a bowl. Repeat process for remaining wontons.
To plate, pour about 100ml of Wonton Sauce into the bottom of each serving bowl. Place 3 Pork and Prawn Wontons into the centre of each bowl on top of the sauce. Remove some Sour Cucumber ribbons from the pickling liquid and roll up into a scroll shape. Place a scroll of cucumber next to each wonton. Sprinkle some sesame seeds over the wontons and finish with some Ginger Floss and micro coriander.