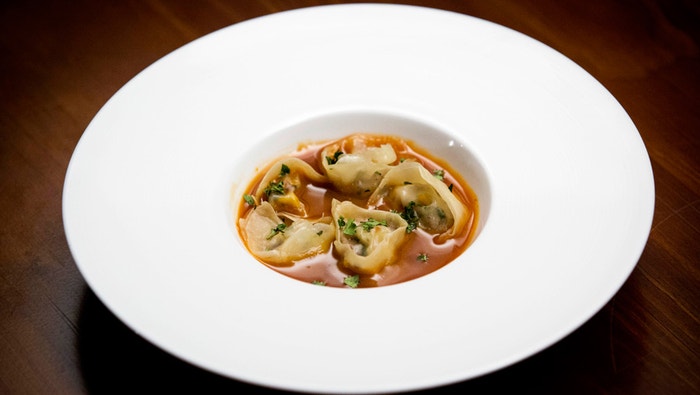 Steps
For the Dumpling Dough, combine flour and salt with the boiling water in a medium bowl. Mix to a soft dough then knead until smooth and silky, about 5 minutes. Place under a bowl or wrap in cling film and leave on the bench to rest for 20 minutes.
Once rested, roll dough, in batches, through pasta machine to a thickness of 1-2mm. Using a 8.5cm pastry cutter, cut 20 circles, cover with cling wrap and set aside until needed.
To prepare the Pork and Corn Dumpling Filling, first use a cleaver to chop pork belly to a coarse mince. Place a wok on the stove over high. Once wok is hot, add the oil, then the pork and corn and toss to combine. Season the mixture generously. Cook until pork is cooked through and golden.
Remove the pork mixture from the heat and stir through the coriander. Set the mixture aside to cool until needed.
For the Miso Caramel Broth, place the sugar and 2 tablespoons of the water in a medium saucepan over medium heat. Heat until bubbling and sugar has dissolved.
Just as sugar syrup starts to turn golden, add the vinegar and miso and whisk until combined. Add remaining water and whisk well. Simmer for 5 minutes, or until broth reduces slightly. Strain the broth through a fine sieve and keep hot until needed.
Fill a large wok to a third with hot water and bring to the boil.
Meanwhile, assemble dumplings by placing a teaspoon of the filling mixture in the centre of each round of dough and fold into a tortellini shape.
Place into large steaming baskets, stacked in layers, and cover with steamer lid or layers of aluminium foil. Steam the dumplings for 10 minutes until cooked through.
To serve, spoon hot broth into serving bowls. Divide the dumplings evenly between the 4 bowls. Garnish with a sprinkle of roughly chopped coriander.