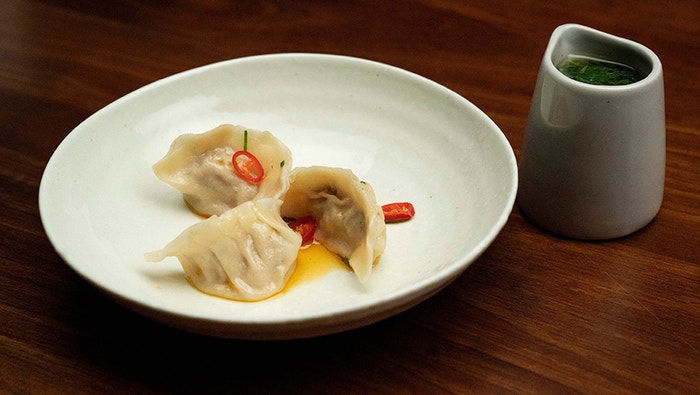 Steps
For the Szechuan Chilli Oil, place the oil, garlic and ginger into a small saucepan over low heat until sizzling and fragrant, about 3 minutes. Add the remaining ingredients, except the Szechuan peppercorns; cook for 2 minutes until ingredients are sizzling but not browned. Place the peppercorns into a small heatproof bowl. Pour the hot oil over the peppercorns and set aside to infuse and cool, about 35-40 minutes. Strain through a fine sieve into a small bowl and set aside.
For the Broth, place the chicken bones/carcass into a large saucepan and add 1.5L water. Bring to the boil then reduce heat and simmer for 30 minutes. Skim any impurities from the surface. Add the remaining ingredients and simmer for 10 minutes.
Remove from the heat and strain the broth through a fine sieve into a clean saucepan. Season with salt, cover and keep warm.
For the Chicken and Pork Dumplings, place the plain flour and 50ml water into a medium bowl and mix together to form a rough dough. Transfer to a lightly floured bench and knead until smooth. Wrap dough in cling film and set aside for 20 minutes.
For the filling, combine the remaining ingredients in a medium bowl and mix together by hand until well combined. Cover and set aside in the fridge.
Bring a large saucepan of salted water to the boil.
Divide the dough into 2 and pass each portion through a pasta machine until 1mm thick. Cut into 20 x 9cm rounds.
Place 2 teaspoons of filling into the centre of each round of dough. Wet the edge of the rounds with a little water. Fold the round in half, press the edges together and pinch to seal.
Cook the dumplings in the simmering water, in batches, until filling is cooked through, about 7 minutes.
Divide the dumplings between serving bowls. Drizzle with some Szechuan Chilli Oil and garnish with spring onion, red chilli and coriander. Serve with the hot Chicken Broth on the side.