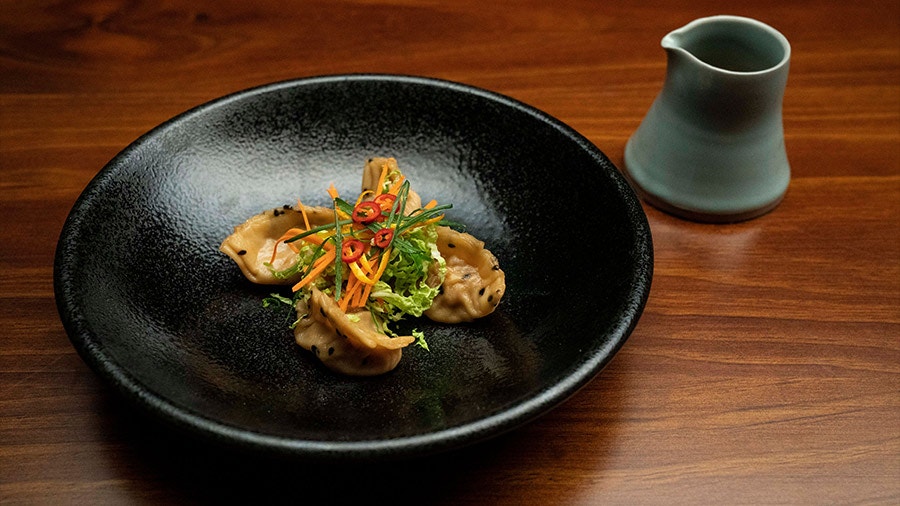 Ingredients
Orange, Star Anise and Cinnamon Broth
Steps
For the Orange, Star Anise and Cinnamon Broth, place all ingredients, except chilli, along with 1.25 litres water into a pressure cooker. Seal and cook on high pressure for 30 minutes.
Strain liquid through a fine sieve into a medium saucepan and add chilli. Season with salt to taste. Cover with a lid and set aside.
For the Pork Dumpling wrappers, place the flour into a medium bowl. Slowly pour in 160-180ml water and mix by hand until a rough dough forms.
Transfer the dough to a lightly floured bench and knead until a smooth soft dough forms. Add sesame seeds and knead into dough until evenly distributed. Wrap dough in cling film and set aside to rest for 15 minutes.
Cut the dough into 4 portions and pass each portion through a pasta roller, starting at the thickest setting through to the second thinnest setting.
Lay sheets of dough onto a lightly floured bench. Using a 7cm round cutter, cut 30 circles from the dough. Cover with a clean tea towel.
For the filling, place all ingredients into a medium bowl and mix together by hand until thoroughly combined.
Place approximately 2 tsp of filling into the centre of each dumpling wrapper. Lightly wet the edge of each wrapper with water and pleat the edges together to seal.
Return broth to a simmer. Cook the dumplings in the simmering broth, in batches, until filling is cooked through, approximately 5 minutes. Remove with a slotted spoon and divide between serving bowls. Top with the garnishes. Pour hot broth over the dumplings and serve immediately.