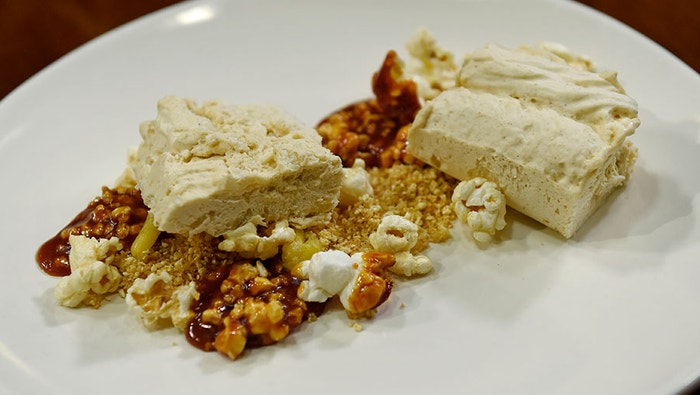 Steps
Cook popcorn kernels according to package instructions. Set aside one quarter and place remaining three quarters into a small saucepan.
For the popcorn parfait, add butter, milk and 100ml cream to popcorn in saucepan. Bring to a boil, stirring, and then remove from heat. Push mixture through a fine sieve and keep hot.
Meanwhile, whisk egg yolks and sugar in a medium bowl until pale and thick. Whisk in hot popcorn milk then return to saucepan and cook over low heat until thickened. Transfer to a bowl placed over an ice bath and cool.
Whip remaining 125ml cream to soft peaks. Fold through popcorn milk then transfer to a syphon gun. Charge twice, shake thoroughly then dispense into a 19cm x 9cm paper lined loaf tin and freeze until set.
For the popcorn caramel, crush half of the remaining popped corn in a small food processor to a fine crumb. Melt sugar in a small frypan until golden. Meanwhile, warm cream and butter in a small saucepan. When sugar is deep golden, remove from heat and add warm cream and butter and whisk until combined. Stir in crushed popcorn and salt. Set aside, keeping warm.
For the popcorn crumb, combine 35g butter, flour sugar, egg and salt into the bowl of a small food processor and blitz until combined. Spread onto a paper lined baking tray and bake for 12- 15 minutes, stirring half way through. Allow to cool. Meanwhile, melt remaining butter in a medium frypan. Add remaining popped corn and cook until golden and crisp. Remove popcorn and set aside on kitchen paper. Reserve 4 tablespoons for garnish and transfer remainder to a food processor. Add cooled biscuit to food processor and blitz to form a coarse crumb. Set aside.
For the butter gel, melt butter until foaming, whisk in agar agar thoroughly and allow butter to bubble, without browning. Cool slightly, then place in a piping bag. Set aside.
To serve, spread popcorn caramel over serving plates. Add slices of parfait, popcorn crumb, pipe on some butter gel and garnish with buttered popcorn.