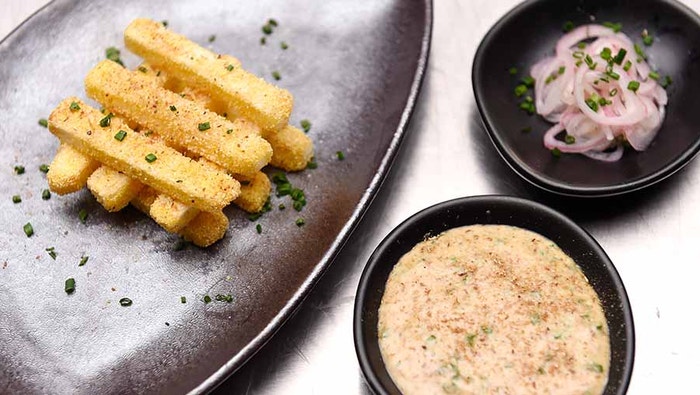 Steps
Bring a large pot of salted water to a simmer over a medium heat. Fill deep fryer with oil and set to 180C.
For the Pickled Shallots, combine all ingredients except for the shallots in a small saucepan and bring to the boil over a medium heat. Remove from the heat and allow liquid to cool.
Place sliced shallots into a small bowl. Once pickling liquid has cooled, pour over the shallots and set aside for 30 minutes to soften. Drain and transfer to a serving ramekin.
For the Porcini Mayo, very carefully crack the egg into the base of a stick blender canister, making sure it does not break. Add Dijon mustard and white wine vinegar. Gently pour in the grapeseed oil. Carefully insert the stick blender, making sure the blades completely cover the yolk. Blend, and as mayo comes together, slowly bring the blender upwards to incorporate all of the oil. Stir in the porcini powder then transfer to a ramekin and set aside in the fridge.
For the Polenta Crusted Chips, cut potatoes into 1cm wide lengths. Add to the pot of simmering water and par boil until still firm but just starting to soften, about 4-5 minutes.
Drain potatoes in a large colander and allow steam to evaporate. Roughen the edges of the potato by gently tossing the potatoes in colander.
Transfer to large bowl and coat potatoes gently in olive oil. Add polenta and gently toss to coat. Deep fry, in batches, until golden brown. Remove from oil and set aside on paper towel. Sprinkle with porcini powder and salt.
To serve, place chips onto the serving plate. Serve Porcini Mayo and Pickled Shallots in ramekins on the side. Finish all elements with a sprinkle of chopped chives.