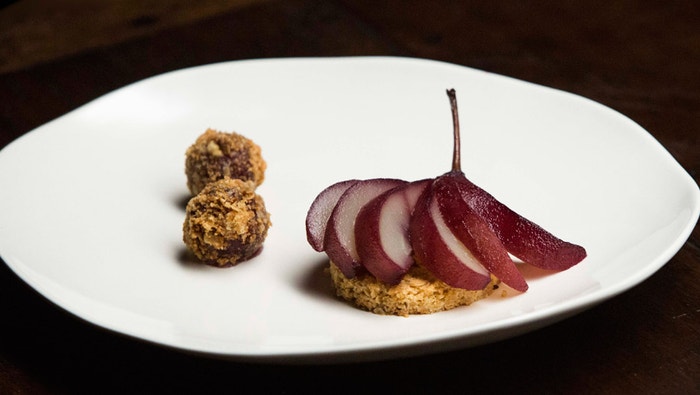 Steps
Preheat oven to 180°C. Set up an ice bath.
For the Cardamom Parfait, place egg yolks, egg and sugar into a medium bowl and set over a saucepan of simmering water. Whisk until thick then remove from bowl from heat and place over ice bath to cool. Crush cardamom pods and discard outer husk. Grind cardamom seeds to a powder and whisk into egg mixture and set aside. Whip cream to soft peaks and fold through cooled egg mixture and transfer to a 19cm x 9cm loaf tin. Freeze until firm.
To make the Mulled Wine, place wine, sugar, 200ml water, ginger and spices to a boil in a small saucepan, stirring to dissolve sugar. Reduce heat and allow to simmer gently.
For the Poached Pears, peel pears and cut into halves. Place 4 halves into the Mulled Wine then use a melon baller to cut 8 balls from remaining pear halves and add to saucepan. Cut a circle of baking paper slightly larger than the diameter of saucepan and snip edges. Push into saucepan to create a snug cover for the pears and simmer gently for 25 minutes or until pears are tender. Remove pears from liquid and set aside. Simmer Mulled Wine until reduced to a syrup and set aside.
For the Oatmeal Crumble, combine all ingredients in a bowl and rub mixture between fingertips to a coarse crumb. Spread onto a paper lined baking tray and bake for 20 minutes or until golden brown. Remove from oven and allow to cool. Once cool, crumble with fingertips to a fine crumb and set aside.
For the Caramel, melt butter and sugar together in a small frypan, until it forms a sticky syrup. Remove from heat and allow to cool slightly. Roll pear balls in syrup then into Oatmeal Crumble and roll between your palms to press crumbs on firmly. Set aside.
To serve, slice each pear half 6 times, almost to the top of the stem, then carefully fan out and place onto serving plates. Place pear balls on plates. Add a scoop of Cardamom Parfait and drizzle with Mulled Wine syrup.