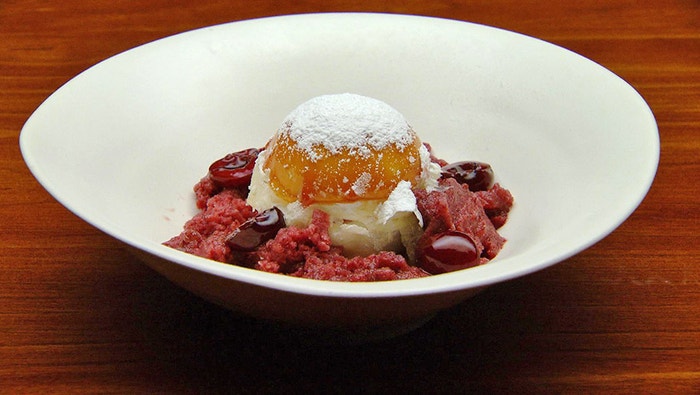 Steps
Preheat oven to 120C.
For the Poached Meringue, place the egg white into a bowl and using an electric mixer, whisk until frothy. Add sugar in three additions, whisking with each addition. Continue to whisk until the sugar has dissolved and the mixture has the consistency of thick cream. Transfer the mixture to a piping bag.
Pipe mixture into 8 x 6cm diameter lightly greased silicon dome moulds. Scrape the surface level to remove excess meringue. Gently place the silicone mould into a deep baking tray. Carefully pour boiling water into tray to come halfway up the sides of the silicon moulds. Place in oven to cook until set, about 20 minutes. Remove from the oven and allow to cool for 2 minutes. Reduce oven to 110C.
Gently unmould the poached meringues and transfer to a tray lined with lightly oiled baking paper. Place in fridge until ready to serve.
For the Marsala Brulee, place the cream in a medium saucepan over low-medium heat and bring to a boil. In a small bowl whisk together the egg yolks and sugar until creamy and pale. Add the hot cream while whisking. Return the mixture to the saucepan and set over low heat. Whisk constantly until mixture has thickened slightly, then remove from heat. Add Marsala and salt and whisk to combine. Spoon mixture into 4 x 2cm diameter lightly greased silicone dome moulds and scrape the surface level.
Place silicon moulds into a baking tray and carefully pour boiling water into tray until it comes halfway up silicon moulds. Place in 110C oven to cook until mixture is becoming set but is still slightly runny, about 10 minutes. Remove from oven, transfer the moulds to a flat baking tray and place in freezer until firm. Reduce oven to 50C. Once firm, unmould and keep in fridge until serving.
For Cherry Granita, place sugar and 1 ½ tablespoons water into a small saucepan and place over medium heat until sugar has dissolved. Remove from heat and transfer to a small bowl to cool.
Place pitted cherries in a food processor and blend until completely smooth. Pass through a fine sieve into a medium bowl. Add cooled sugar syrup, thyme and salt and mix to combine. Pour mixture into a small baking tray and freeze until firm. Once firm, scrape the solid mixture with a fork until it resembles breadcrumbs. Return to the freezer and scrape every 10-15 minutes until a granita forms. Freeze until serving.
For the Marsala Macerated Cherries, place the cherries in a small bowl with the Marsala and set aside to infuse for 15 minutes. Drain the cherries and set aside 12 cherry halves for garnishing. Place the remaining cherries in a mortar and pestle and grind until the cherries resemble a thin puree. Set aside until serving.
For the Marsala Milk Skin, place all ingredients in a medium saucepan and stir to combine. Place over medium heat and bring to a boil. Strain into a deep baking pan and place over low heat. Simmer gently to allow a milk skin to form on top of the milk. Loosen the edges of the skin with a sharp knife. Lay a lightly oiled sheet of baking paper over the skin and peel off skin from the milk. Hold baking paper to drain excess milk then lay, skin side up, on a flat baking tray. Repeat for more milk skins, as desired. Place in the 50C oven to bake until the milk skin is dry and crisp, about 20 minutes. Remove from oven, break into shards and set aside until serving. Increase oven to 180C.
For the Thyme Biscuit Crumb, place all ingredients in a food processor and blend until mixture resembles breadcrumbs. Spread mixture onto a paper lined tray and place in the 180C oven to bake until slightly golden, about 15 minutes. Remove from oven and set aside to cool until serving.
For the Caramel Tuile, place sugar into a small frypan and place over low-medium heat. Heat sugar until it melts and forms an amber coloured caramel. Pour onto a flat baking tray lined with baking paper and spread out caramel until very thin. Before the caramel sets cut out 4 x 7cm diameter rounds. Allow the caramel to set then carefully remove rounds from paper. Set aside until serving.
To assemble, spoon 2 tablespoons of Thyme Biscuit Crumb onto the centre of each serving plate. Gently place a half sphere of Poached Meringue onto each portion of crumb. Scoop a half teaspoon of meringue from the centres of the spheres and fill cavity with ground Macerated Cherries. Scoop the centres from the remaining meringue half spheres, fill with Marsala Brulee and place spheres on top of cherry filled spheres. Gently position the Caramel Tuile on top of the Poached Meringue. Using a blow torch, gently melt the tuile over the meringue. Dust with a generous amount of icing sugar and arrange the shards of Marsala Milk Skin. Spoon Cherry Granita around the sphere and top Granita with reserved Marsala Mascerated Cherries.