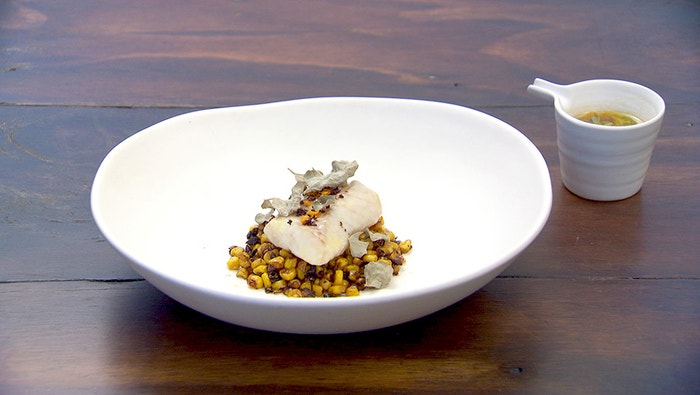 Steps
Preheat oven to 180°C.
For the Charred Corn, place olive flesh onto a baking tray lined with baking paper and cook in pre-heated oven until crispy and completely dehydrated, about 15 – 18 minutes. Reserve 2 teaspoons of dried olives as garnish, set the rest aside until needed.
Bring a medium saucepan of lightly salted water to the boil. Add corn and boil until almost cooked, about 5 minutes. Remove corn, reserving cooking water and slice off kernels.
Place a frying pan over medium-high heat, add butter and 1/3 of the corn kernels. Toss well for a few minutes. Add orange juice and cook, stirring, until corn begins to caramelise.
Add the dehydrated olives to the pan. Season with white pepper and salt to taste and toss well to combine. Remove the olives and corn from the frypan and set aside on paper towel to drain until needed.
For the Orange and Saltbush Dressing, mix ingredients together in a small bowl. Adjust seasoning with salt and pepper as desired and set aside until needed.
For the Poached Murray Cod, place reserved corn cooking water into a deep frypan wide enough to hold the 4 cod fillets and bring to a simmer. Add a cube of butter to the water, whisking vigorously to emulsify. Continue adding butter, one cube at a time, whisking between each addition, until all butter is melted and fully emulsified. Add the orange peel and olives and season with salt and pepper to taste. Reduce the heat to a simmer.
With the butter emulsion at a simmer, add the cod fillets. Poach until fish is tender and cooked through, about 5 minutes.
Once cooked, remove cod from pan, carefully remove skin from each fillet and set aside, keeping warm, until needed.
To serve, place the Charred Corn on the base of each serving plate or shallow bowl. Top with a fillet of Poached Cod. Sprinkle over reserved dehydrated olives and orange zest. Garnish each plate with a few dehydrated saltbush leaves. Serve with Orange and Saltbush Dressing in a jug on the side.