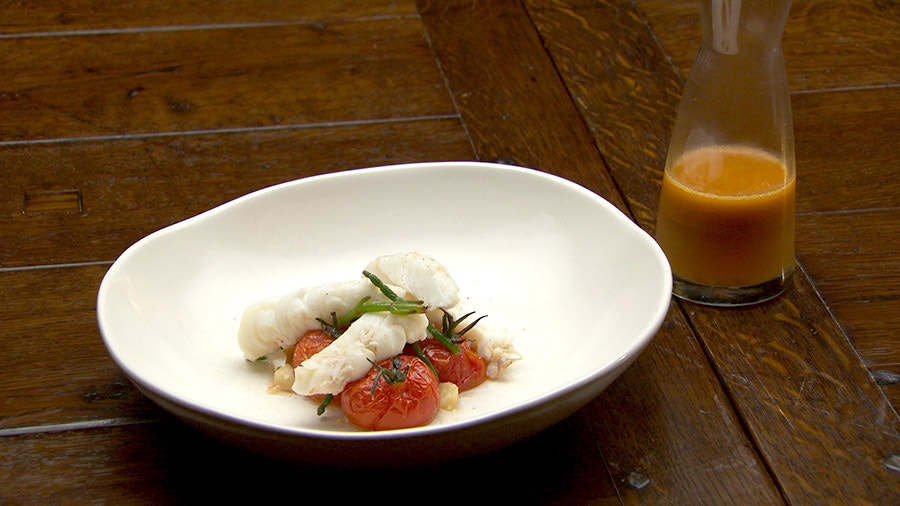 Steps
Preheat oven to 180°C. Prepare a large bowl of iced water.
For the Pernod Seafood Bisque, bring a large saucepan of water to the boil to blanch the bugs. Add bugs and, when water returns to boil, cook for a further 6-7 minutes. Remove bugs and place into bowl of iced water until cool. Once cool, carefully cut shells along the bug tail, peel away and release tail meat. Cut each bug tail in half and clean. Set aside until needed.
Place diced tomatoes in a roasting tray and season with sugar and salt. Roast for 25 minutes then transfer entire contents of baking tray into the canister of a stick blender and pulse into a thick paste. Set aside until needed.
Heat a large deep frypan over medium heat. Chop bug shells and add to the hot pan with a little oil. Add butter, crushed garlic and samphire and cook until shells start to brown, about 6 – 7 minutes. Add 2 cups water and reduce heat to a simmer. Add Pernod and continue to cook until liquid has reduced, about 5 minutes.
Meanwhile, bring 1 cup water to the boil in a large frypan. Add mussels, cover and cook until mussels open, about 7-8 minutes. Strain the cooking liquid through a sieve, discard the mussels and add liquid to the simmering bisque broth.
Place bonito flakes and 1 cup of water into a small saucepan and bring to the boil. Simmer gently for 10 minutes, then add the mixture to the bisque. Add roasted tomato paste and stir well to combine. Continue to simmer until 500ml of liquid remains. Pass the bisque through a fine sieve and into a clean saucepan, discarding the solids. Season the bisque to taste, cover and keep hot until needed.
For the Roasted Tomatoes, place tomatoes on a flat baking tray. Drizzle with oil and season to taste with salt. Roast in the pre-heated oven until soft and plump but skins haven't burst, about 15 mins. Set aside, keeping warm, until needed.
For the Blanched Samphire, bring a small saucepan of water to the boil then add samphire and blanch for 5 minutes. Remove from water plunge immediately into iced water. Remove from water and dry thoroughly. Set aside until needed.
To serve, place macadamia crumb into the centre of each plate, top with a small stack of roasted tomatoes and blanched samphire. Place 1 bug tail on top on each plate and serve with bisque in a jug on the side.