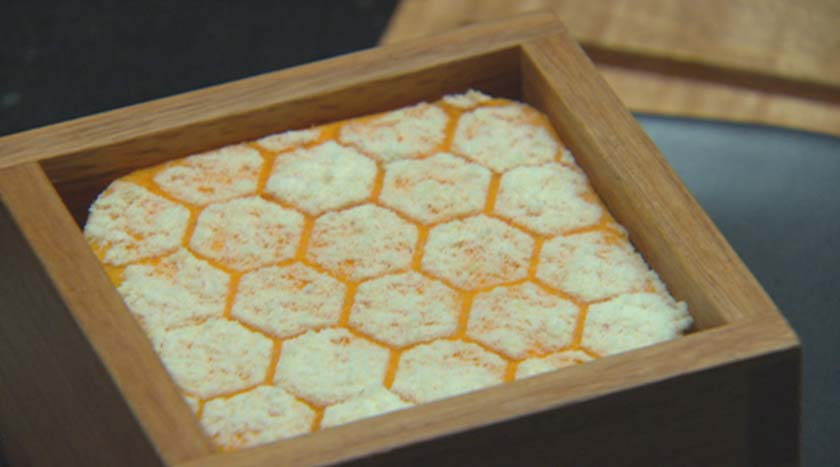 Ingredients
Lemon and Wild Thyme Honey Cream
Steps
Meringue
For the meringue, preheat oven to 90C, and line 2 large trays with baking paper.
Using an electric mixer, whisk egg whites and salt to soft peaks. Gradually add sugar, a small spoonful at a time, beating well between each addition until mixture is stiff and glossy. Once all of the sugar has been added, beat for a further 2 minutes, then reduce speed to low. Add corn flour, vinegar and thyme powder, beating to combine, scraping down the sides of the bowl, if necessary.
Spread meringue mixture over trays to 3mm-5mm thick. Place trays in oven for 90 minutes or until dry but not coloured. Set aside to cool completely. Break into large shards, and transfer to an airtight container until needed.
* The meringue can be made a few days ahead.* Silica beads help to keep the moisture levels in the container low and the meringue crisp. These can be purchased at baking/cake decorating suppliers and some chemists.* Freeze dried thyme is made by 'Fresh As' and can be purchased from specialty cake stores.
Lemon and Wild Thyme Honey Cream
For the lemon and wild thyme honey cream, place lemon juice and honey in a saucepan set over medium heat, and bring up to a gentle simmer.
Whisk eggs and sugar in a large bowl until sugar has dissolved, and the mixture is thick and creamy.
Slowly pour honey mixture into bowl with egg mixture, whisking constantly to combine. Transfer mixture to a saucepan set over medium heat. Cook for 2-3 minutes or until mixture thickens, stirring constantly, ensuring mixture is smooth and without lumps.
Meanwhile, soak gelatine in a bowl of cold water for 2-3 minutes or until softened. Drain, squeezing out any excess water.
Remove pan from heat, and whisk in gelatine until dissolved.
Whisk in butter, one piece at a time until combined. Strain mixture through a fine sieve into a clean bowl set over a bowl of iced water, and stir until cool.
Transfer mixture to a 1-2cm deep tray and spread out to a thin layer. Cover the surface of the mixture with a piece of go-between or plastic wrap to avoid a skin from forming, then refrigerate until set.
Whisk cream in a bowl to semi-firm peaks. Transfer cooled curd to a large bowl with one-third of the whipped cream, and gently fold until well combined. Fold through remaining cream until combined, then transfer to a piping bag. Refrigerate until needed.
* Wild thyme honey can be purchased at selected gourmet food shops.
Thyme Ice
For the thyme ice, blend sugar, lemon zest, thyme, vitamin C and water in a blender for 2 minutes. Strain through a fine sieve into a bowl. Add fennel and lemon juice in small increments, to taste, and season to taste with salt, stirring to combine.
Pour mixture into a dish large enough for the liquid to come up 1-2cm up the sides. Place in freezer for about 45 minutes or until mixture is almost set, then scrape with a fork to flake. Return to freezer until needed.
Pumpkin
For the pumpkin, bring a large saucepan of water to a rapid boil.
Trim pumpkin to a piece larger than the serving dishes or bowls.
Using a very sharp knife, cut 8-12 thin sheets of pumpkin flesh about 2mm thick. Trim slices, slightly larger than the size of the serving dish to allow for shrinkage.
Whisk honey and warm water in a bowl until combined.
Lay 4-6 pumpkin slices in a single layer in two food saver bags, to allow for any breakages. Add 50ml of honey syrup to each bag, then vacuum seal.
Cook in boiling water for 90 seconds, or until tender to the touch. Plunge bags into iced water to cool.
*Slice pumpkin using a meat slicer set to 1.5-2, if possible
To Assemble
To assemble, divide mandarin segments among serving dishes.
Pipe 1-2cm mounds of lemon and thyme honey cream into dishes, filling in the gaps around the mandarin segments.
In a zigzag pattern, lightly drizzle over honey, then cover with meringue shards, ensuring the pieces aren't too small.
Remove thyme ice from freezer, scraping with a fork, if necessary. Fill the dishes with thyme ice, right up to the brim, ensuring the pumpkin will lay completely flat on top of the mixture.
Cut away 3 sides of the vacuum bags, then remove topside of plastic. Very carefully remove pumpkin pieces and place on a flat tray. Lightly pat pumpkin pieces with paper towel to remove excess syrup, then finely grate over freeze-dried apple to 1mm thick.
Imprint surface with a honeycomb stamp, ensuring to press firmly, but taking care not to break the pumpkin. Very carefully lift the pumpkin piece and place on top of the serving dish. Repeat with remaining serves. Serve immediately.
* The J Friend and Co honeys are available from selected gourmet food shops.* Honeycomb stamps are available from specialty hospitality equipment stores.
Notes
Serves: 4-6
*You will need 4 x 250ml serving dishes or bowls for this recipe.