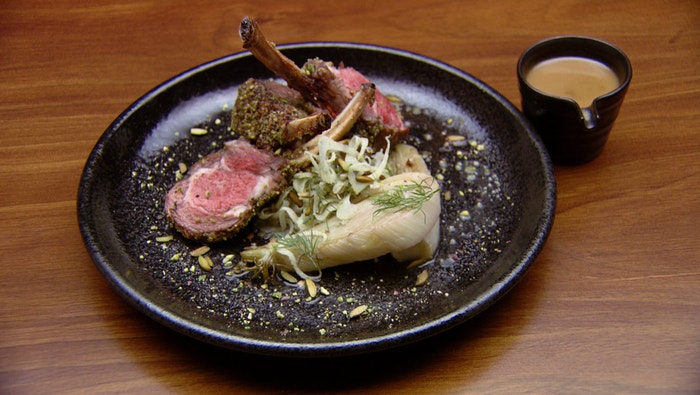 Steps
Preheat the oven to 120C.
For the Confit Fennel, place the fennel slices, olives, onion and garlic into a medium deep ovenproof baking dish. Pour oil over and cook in the oven under tender, about 1 hour. Remove from the oven and cover loosely with foil, keeping warm.
Increase the oven to 180C.
For the Pistachio Crusted Lamb Rack, French the lamb racks and set aside. Reserve the trimmings. For the Jus, place a medium frypan over medium high heat. Add the lamb bones and trimmings to the pan and cook, stirring, until browned and caramelised.
Reduce the heat to medium. Add the carrot, celery, onion and garlic and cook until vegetables are soft and golden, about 10 minutes.
Add the wine and scrape the base of the pan. Simmer until the liquid has reduced by half. Add the stock and simmer until reduced by half. Add the vinegar and 4 sprigs thyme and simmer until liquid has reduced to about ½ cup.
Strain through a muslin sieve into small frypan. Remove from the heat and slowly whisk in the butter, a piece at a time, until combined and the jus is thick and glossy. Season with salt and pepper. Cover to keep warm. Reheat gently to serve.
For the Pistachio Crusted Lamb Rack, place a large frypan over medium high heat. Add 1 tablespoon of oil and when hot, season the lamb with salt then place into the hot pan. Cook until lamb is browned and sealed. Remove from the pan and transfer to a plate.
Meanwhile, place the pistachio, leaves from remaining 5 sprigs of thyme and a little salt into the bowl of a food processor. Pulse until finely crushed then spread over a baking tray.
Press the fillets of the lamb racks into the crushed pistachios until the fillets are completely covered in the pistachio crumb. Transfer the lamb to a wire rack set over a shallow baking tray. Drizzle the crust lightly and evenly with the remaining oil. Cook in the oven until the internal temperature of the meat reaches 48-50C and the crust is lightly golden, about 10-15 minutes.
Remove from the oven and set aside to rest for 10-15 minutes before carefully cutting each rack into cutlets to serve.
For the Fresh Fennel Salad, use a mandolin to slice fennel thinly. Place into a medium bowl along with the remaining ingredients and gently toss to combine.
To serve, arrange 2 slices of Confit Fennel onto each serving plate and top with some Fresh Fennel Salad. Add 3 cutlets to each plate. Drizzle generously with the Lamb Jus. Finish with a sprinkle of pistachios.