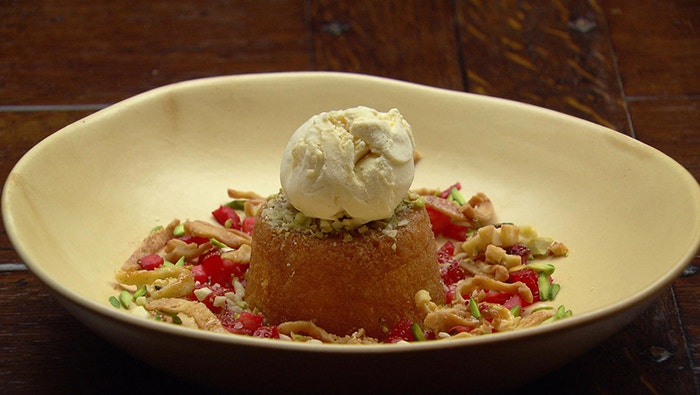 Steps
Prechill ice cream machine. Preheat oven to 190C.
For the Saffron and Vanilla Ice Cream, pour milk and cream into a saucepan, add saffron, vanilla bean and seeds and place over medium heat. Bring to a gentle simmer then remove from heat.
Meanwhile, whisk egg yolks and sugar in a bowl until light and fluffy.
Pour hot milk mixture into the egg yolks while whisking constantly. Return mixture back into the saucepan and set over medium heat. Cook, stirring, until mixture reaches 82C. Remove from heat and strain into a bowl set over the ice bath. Whisk until cold then pour into bowl of ice cream machine. Churn according to manufacturer's instructions then place ice cream into the freezer until firm and ready to serve.
For the Pistachio and Cardamom Cake, place eggs and sugar in a medium bowl and whisk for 5 minutes. Add sieved flour, baking powder, and cardamom and fold until combined. Add melted butter, cream, ¾ of the nuts and salt and fold mixture gently. Divide batter evenly between six 7cm base X 5.5cm height buttered dariole moulds or ramekins. Place in oven to bake until the cakes are cooked through, about 15 minutes.
Remove from oven and carefully turn the cakes out of the moulds. Slice the tops from cakes to create a clean, flat surface and set aside.
Meanwhile, prepare the Salted Butter and Honey Sauce, place butter, honey and salt in a small saucepan. Place over a medium heat and cook, stirring, until mixture is bubbling and slightly thickened. Remove from heat and spoon oven the cut side of cakes to cover. Turn cakes over and pour most of the remaining sauce over cakes, reserving 2 tablespoons of the sauce for the Pastry and Nut Biscuit. Sprinkle cakes with remaining nuts and set aside until serving.
For the Pastry and Nut Biscuit, place flour, sugar, butter, eggs, cream, and cardamom in a medium bowl. Bring together with fingertips to form a soft dough. Knead the dough for a few minutes and set aside to rest for 10 minutes.
Tear a small piece of the rested dough, roll into a ball, and then roll out on a lightly floured bench to a thin sheet. Sprinkle the dough sheet with nuts and gently roll into a log then slice into thin pinwheels. Loosen the pinwheels into strips and place on baking tray. Continue until all the dough has been used. Place in the oven to bake for 5-7 minutes. Drizzle with Salted Butter and Honey sauce and return to oven until golden. Remove from oven and set aside to cool. Once cool, break into pieces and set aside until serving.
To serve, place a cake onto each serving plate. Arrange Pastry and Nut Biscuit, strawberry pieces, and slivered pistachios around the cake. Top with a scoop of Vanilla and Saffron Ice Cream.