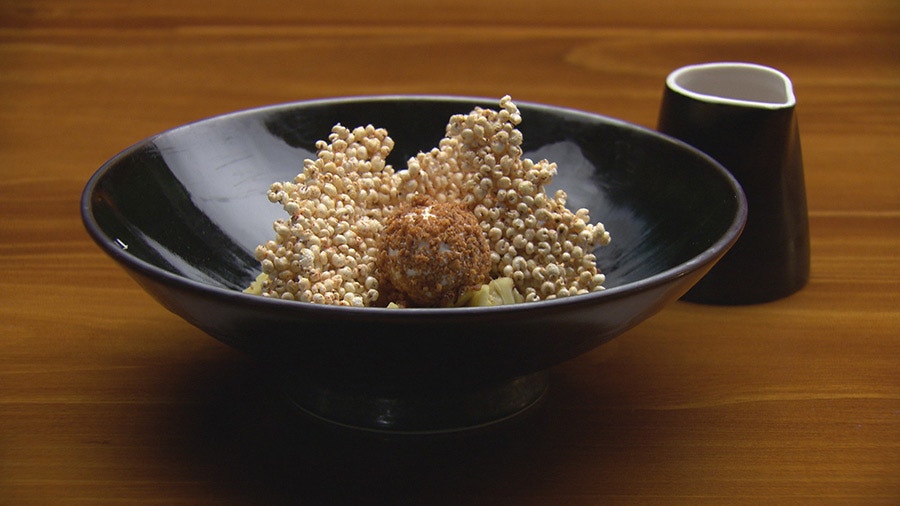 Ingredients
Chilli Millet Puff Wafers
Steps
Preheat oven to 100C.
For the Frozen Nougat, place cream into a medium bowl and whip to soft peaks. Set aside.
Combine the sugar and 50ml water in a small saucepan over a medium heat. Brush sides of saucepan with a pastry brush that has been dipped in water and cook until sugar syrup reaches 117C on a thermometer.
Meanwhile, place egg whites into the bowl of an electric mixer fitted with a whisk attachment. Whisk egg whites until foaming, and when the sugar syrup is at temperature, remove from heat and pour into the egg whites in a thin steady stream with the mixer running at high speed. Continue whisking on high speed for approximately 6-7 minutes, or until thick and glossy and bowl is cool to the touch.
Gently fold in whipped cream then mixed peel, dried pineapple and roasted peanuts.
Place a tray of 12 x 6cm wide dome moulds onto a baking tray and fill with nougat mixture. Level with an offset spatula and place in the freezer to set. When firm, remove from freezer and unmould nougat and join 2 halves together to make 6 spheres. Return to freezer.
For the Pineapple Petals, finely slice pineapple on a mandolin and spread out on a lined baking tray. Bake in oven for 40 minutes or until slightly brown on the edges and dehydrated. Remove from oven and set aside to cool.
For the Grilled Pineapple, preheat a grill pan on high heat. Add butter and when just melted, add the pineapple chunks. Cook for approximately 4-5 minutes on each side, or until grill marks appear and pineapple is tender. Remove from heat, roll in a combined mixture of sugar and chipotle powder and set aside.
For the Fresh Pineapple, using a mandolin, slice pineapple finely and set aside in fridge for plating.
For the Chilli Peanut Brittle, heat butter and sugars in a small saucepan over medium heat until butter has melted and mixture is combined and beginning to caramelise. Add the peanuts and salt and continue to cook, stirring occasionally until the mixture darkens to a deep amber colour.
Pour the mixture onto a lined baking tray, it should spread out to an even thickness, otherwise spread with a spatula. Set aside to harden and cool in freezer before breaking off pieces and transferring to the bowl of a small food processor and blitzing to a fine crumb.
For the Chilli Millet Puff Wafer, place caster sugar to a small saucepan over medium heat and allow to caramelise without stirring the pan. Once the caramel is a light golden colour, remove the pan from the heat and add the millet puff and chilli powder and stir quickly and gently to combine.
Transfer the mixture to a piece of baking paper and cover with another sheet of baking paper on top. Use your hands and then a rolling pin to quickly flatten out the mixture before it sets. Once set, break apart into shards and set aside for plating.
For the Chilli Salted Caramel, place caster sugar to a small saucepan over medium heat and allow to caramelise without stirring the pan. Once the caramel is a deep amber colour, start adding the cream in small additions and whisk vigorously. Once all the cream is incorporated and the mixture has become homogenous again, add cubes of butter and whisk until melted. Stir in chilli and sea salt and then transfer to a jug and keep warm for serving.
To serve, remove Frozen Nougat Spheres from freezer and roll in Chilli Peanut Brittle. Create a ring of pineapple petals, fresh pineapple and grilled pineapple on each serving plate. Fill the circle with the remaining Chilli Peanut Brittle. Place a sphere of Frozen Nougat on each plate and garnish with Chilli Millet Puff Wafers.