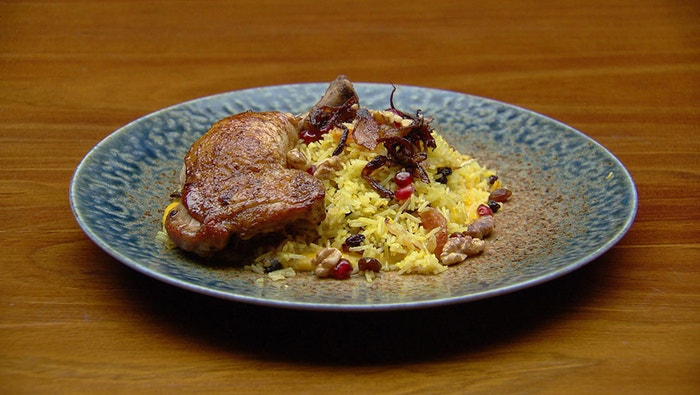 Steps
Preheat oven to 200C.
For the Shirin Pilaf, rinse the rice under cold running water until the water runs clear. Place rice into a saucepan, then add chicken stock, cinnamon and cardamom. Place over medium heat and bring to simmer.
Meanwhile, place the apricots, raisins, currants, saffron and butter into a medium sized bowl. Top with 200ml of boiling water, then set aside for 3-5 minutes to infuse.
Add the saffron water and dried fruit to the simmering rice and stir to combine. Season to taste, then increase heat and bring to the boil. Wrap the saucepan lid with aluminium foil, then place onto the saucepan. Continue cooking over a low heat until the rice is cooked, about 10 minutes. Set aside, keeping warm.
For the Pumpkin Purée, place the pumpkin into a saucepan and cover with water. Add the saffron, cardamom, good pinch of salt and stir to incorporate. Place over a medium heat and bring to a simmer, then cover with a lid and cook until the pumpkin is soft, about 7-8 minutes.
Strain the pumpkin and discard cardamom pods. Use a stick blender to purée the pumpkin until smooth. Add the butter and blend until combined. Season to taste, then cover and set aside.
For the Roasted Chicken Maryland, heat oil in a large ovenproof sauté pan then add the onion. Add chicken, skin side down, and cook until the chicken has browned, about 5 minutes. Add butter to the pan and turn the chicken over, then continue to cook for a further 5 minutes.
Generously brush the chicken with the pomegranate molasses and season with salt and pepper. Add the chicken stock and 200ml water to the pan, then place the pan into the preheated oven until the chicken is cooked through, about 15 minutes. Remove from the oven and set aside.
For the Caramelised Onion, place the onion and butter in a small frypan over medium heat. Cook the onions, stirring regularly, until caramelised, about 8 minutes. Set aside.
To serve, spoon Pumpkin Purée into the centre of each plate. Top with a generous amount of the Shirin Pilaf. Add a Roasted Chicken Maryland, and garnish with pomegranate seeds, toasted walnuts and some of the Caramelised Onion.