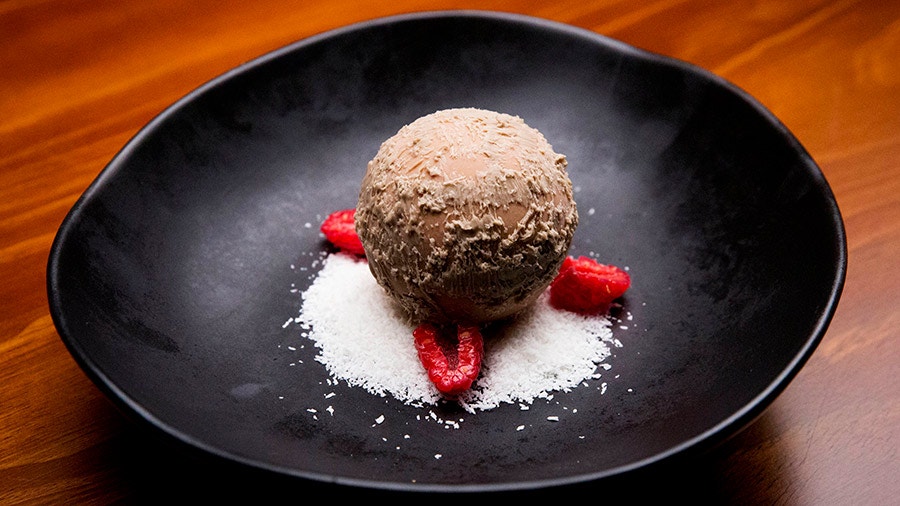 Ingredients
Toasted Coconut Ice Cream
Steps
Pre chill ice cream machine. Preheat oven to 180C.
For the Toasted Coconut Ice Cream, spread coconut onto a lined baking tray and cook in oven, stirring halfway through cooking time, until golden brown, about 7-8 minutes. Remove from oven and transfer coconut to a small saucepan. Add milk and cream and heat over a medium heat until simmering. Simmer gently for 5 minutes then pass the mixture through a fine sieve and reserve liquid.
Meanwhile, whisk egg yolks and sugar until pale and creamy.
While constantly whisking, slowly add reserved, hot cream mixture to the egg mixture until fully combined. Pour into a clean saucepan and place over a medium heat. Stir continuously until mixture thickens and reaches 80 degrees. Remove from heat and place over an ice bath to cool.
When cold, transfer mix to ice cream machine and churn according to manufacturer's instructions.
For the Chocolate Shells, place chocolate in metal bowl over a saucepan of simmering water and heat until half of the chocolate is melted. Remove bowl from heat and stir constantly until chocolate has fully melted.
Pour into 8 x 7cm dome moulds and coat evenly. Turn upside down over a cake cooling rack to drain excess chocolate. Set moulds aside in fridge until chocolate is set. Reserve excess chocolate and keep warm for assembly.
For the Raspberry Sauce, place ingredients with 100ml water into a medium saucepan and simmer over medium heat until liquid is syrupy and reduced slightly. Remove from heat and blitz with a stick blender until smooth. Pass through a fine sieve and set aside in fridge to cool.
To assemble, fill 4 chocolate domes with Coconut Ice cream. Fill remaining 4 domes with Ice cream leaving space at the top. Fill space with Raspberry Sauce. Set aside in the freezer until firm, about 60 minutes.
When ready to serve, remove domes from molds. Press together the ice cream filled domes with the ice cream and raspberry filled domes to make 4 spheres.
With a pastry brush, dab reserved chocolate over the spheres creating coconut fibres, ensuring seam is covered.
Place a small mound of desiccated coconut on a serving plate. Top with a chocolate sphere and garnish plate with fresh raspberries.