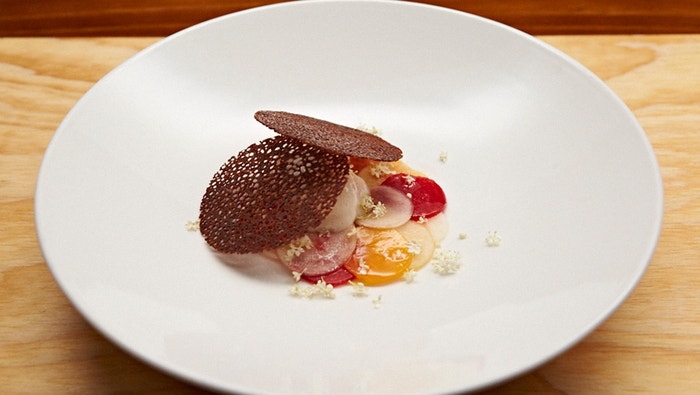 Steps
Preheat oven to 160C. Turn on ice cream machine to chill.
For the Peach Biscuit, first place sugar and 75ml of the water in 3 litre saucepan. Cook on high heat, stirring at intervals, to 208C to achieve caramel. Remove from heat and deglaze the pan with the remaining 40ml water, stirring until combined.
Meanwhile, place dried peach tea leaves to a spice grinder and grind to a fine powder. Pass through a sieve into a small bowl.
In a bowl, combine the plain flour, bicarbonate of soda and a pinch of the peach powder. Add the dry ingredients to the warm caramel and mix well to form a thick batter. Cover the bowl with plastic wrap and set aside to prove for 10mins.
Place condensed milk and eggs in the bowl of a stand mixer with whisk attachment and beat on high until a billowy foam, about 5mins.
Meanwhile, prepare the shallow 1/5 gastronome tray by spraying with canola spray and lining with baking paper. Set aside until required.
Once the caramel batter has proved, add the egg and condensed milk foam. Whisk on high until completely combined, about 3 minutes.
Transfer the biscuit dough to the prepared tin and bake until the cake springs back when touched, about 30mins
Once baked, remove from oven and tun out onto a chopping board. Peel off baking paper from the top of the biscuit. Cut biscuit square in half, widthways, place onto a paper lined baking tray and transfer to the blast chiller, until firm, about 20mins.
To finish the Peach Biscuits, remove from blast chiller and carefully slice into thin (1-2mm) sheets using a meat slicer. Take care not to break the sheets. Place sheets onto a chopping board and cut discs using an 8cm ring cutter.
Line a gastro lid tray upside down, with baking paper. Thinly brush paper with clarified butter. Place biscuit discs onto tray, cover with another sheet of baking paper and top with a second upside down gastro tray lid to weigh down. Place in the oven and bake until crisp. About 16mins
Once biscuits are crisp, remove from oven and set aside to cool. Once completely cool, transfer to an airtight container and set aside until required
In preparation for the Burnt Peach Butter, prepare binchotan coals by placing onto the largest element on he stove, turning with tongs until coals begin to turn white. Transfer to hibachi grill. Manage the heat of the coals as they cook down until hibachi grill is required.
For the White Nectarine Poaching Liquor, place champagne, water, vanilla and sugar in a 3 litre saucepan over high heat and bring to the boil
Once boiling, reduce heat, add nectarines and cover with a cartouche of baking paper cut into a circle to fit the pot. Simmer nectarines are completely soft, about 25mins.
Remove saucepan from heat, carefully take out nectarines and place onto a tray. Whilst still warm, remove the skin from nectarines and de-seed. Set flesh aside for the White Nectarine Sorbet
To finish the White Nectarine Poaching Liquor, strain through a fine sieve and place into a 2 litre saucepan over medium-heat until reduced into a syrup. Remove from heat and add elderflower. Transfer to an airtight container and set aside on the bench until required
For the White Nectarine Sorbet, transfer 600g of the reserved cooked nectarine flesh, sugar, glucose and stabiliser into a Thermomix and blitz into a smooth puree.
Pass mixture through a fine sieve into a bowl and place over an icebath to cool. Once completely cool, transfer to pre-chilled ice cream machine and churn until set, about 30mins. Once set, transfer to an airtight container and set aside in the freezer until required.
Meanwhile the peaches from the hibachi grill and place onto a chopping board. Chop finely into small pieces and transfer to a 2 litre saucepan. Add the dark muscovado sugar, verjuice and 100ml of water and place on stovetop on medium heat, stirring every 1 minute, until peaches have softened and all liquid has evaporated.
Remove from heat. Using a stick blender, slowly add in the butter, one cube at a time, blending well after each addition. Blend well after the final addition of butter until very smooth and completely emulsified.
Pass the blended peach mixture through a fine sieve and place in airtight container on the bench until required.
Finish and Assemble
To prepare the Fruit for Plating, wrap a slightly shallow rectangular plate tightly with cling film to create a taunt surface.
Slice the white nectarine, yellow peach, blood plum and apricot to 1-2mm thick, using either a knife or mandolin, depending on the ripeness and texture of the fruit
Using various sized ring cutters, cut discs from each of the different fruits
Lay fruits onto taut film covered plate in preparation for assembly
Spoon some of the Burn Peach Butter onto the middle of the service plate and use the back of he spoon o smooth into a circle
Place an 11.5cm ring cutter around the Burnt Peach Butter. Carefully arrange the fruit discs on top of the Burnt Peach Butter to cover completely in a random pattern, slightly overlapping each other.
With the ring still around the fruit, spoon some of the White Nectarne Poaching Liquor over the fruit pieces, using the ring to hold the fruit and syrup securely within a circle shape
Carefully remove the ring clutter
Using a dessert spoon, form a rocher of the White Nectarine Sorbet and place on top of the fruit at the edge of the circle
Sprinkle fruit and sorbet with some pickled elderflowers
Carefully place the Peach Biscuit on top of the rocher of White Nectarine Sorbet and serve