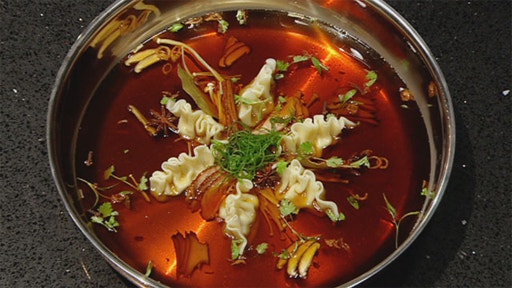 Steps
Preheat oven to 200°C.
For master stock, place all ingredients into large stockpot. Bring to the boil, reduce heat to low and simmer for 20 minutes, cool.
For Peking duck stock, place chicken bones in a large baking dish and roast for 45 minutes or until golden brown. Drain and discard any fat. Transfer roasted bones, Peking duck carcass and remaining ingredients to large stockpot and bring to the boil, skimming residue frequently. Reduce heat to very low, simmer gently for 4 hours, skimming occasionally.
Place 1 cup of master stock in a small saucepan and bring to the boil. Add abalone, cover with a cartouche, reduce heat to low and simmer for 3 hours or until abalone is tender (if the liquid gets low, just top up with some cold water). Remove abalone and leave to cool.
Using a sharp knife, cut the cooled abalone into 1mm slices and set aside.
Strain duck stock through a fine sieve and discard bones. Season to taste and refrigerate overnight.
Process chopped chicken breast and egg whites in a food processor until smooth.
To clarify stock, slowly whisk chicken mixture into the cold duck stock and place over a medium heat, stirring occasionally. As the stock heats, the chicken mixture will start to coagulate, rising to the surface to form a layer on the surface of the stock. When this happens, reduce heat to very low to ensure the stock doesn't boil, as boiling will ruin the clarification.
Simmer very gently for 10 minutes, make a hole in the centre of the top layer to enable the stock to 'breathe', make sure the hole is big enough to fit a ladle through, ready for when the time comes to remove the clarified stock.
For dumplings, place chicken into a food processor and process to a smooth paste, add egg whites, season well and process until just combined. The mixture should have a glossy texture.
Slowly add cream and pulse until it is incorporated, transfer mixture to a bowl, cover with plastic wrap and refrigerate until required.
Heat olive oil in a frying pan and cook onions, carrots, celery, ginger and garlic until soft and translucent, cool. Combine vegetable mixture, chicken paste, diced duck meat and coriander in a bowl.
To assemble dumplings, carefully separate gow gee wrappers, laying them out on a work surface.Divide the filling evenly between the wrappers (1-2 teaspoons on each one), brush edges with a little water and fold each one in half, pressing firmly to seal the edges. Dumplings can be made up to 12 hours in advance.
To serve, bring the consommé to a simmer. Place enoki and shiitake mushrooms into a saucepan of boiling water and cook for 1–2 minutes, drain and divide among warmed soup bowls. Cook dumplings in the saucepan of boiling water for 3–4 minutes, drain and divide among soup bowls. Place four slices of abalone in each bowl, ladle over the consommé, and scatter with fried shallots, spring onions and baby coriander sprigs.