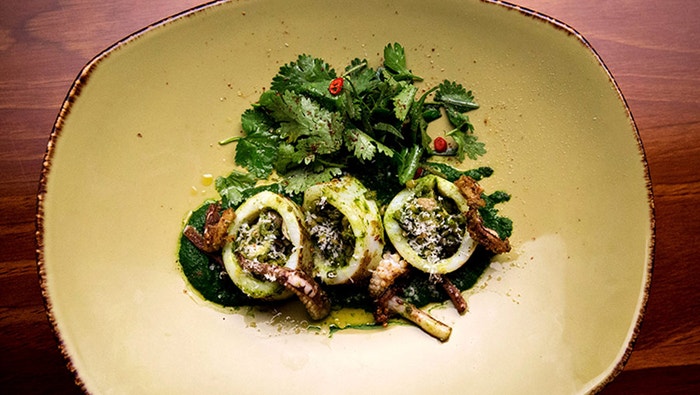 Steps
For the Pearl Barley Risotto, rinse barley and place it in a pressure cooker with 500ml stock. Cook on high for 10 minutes.
Meanwhile, blanch mixed herbs into a pot of boiling water for 30 seconds. Remove and refresh in iced water. Drain and squeeze out liquid from the mixed herbs then place into a jug of a blender and set aside in fridge.
Place a medium saucepan on low heat and melt 20g butter. Add butter and fry garlic and shallots for 3-5 minutes until soft. Add leeks and cook for 4-5 minutes until soft. Transfer mixture to the blender and process on high speed until smooth.
Place remaining butter into a medium saucepan and melt over medium heat. Add mushrooms and fry until tender and golden, about 5 minutes Add barley and stir through.
Mix ½ cup of green herb sauce into the barley and cook gently for 4-5 minutes making sure the sauce thickens. Remove from heat, season and set aside to cool.
For the Spiced Squid, toast seeds in a frypan over low heat until lightly golden, about 2-3 minutes. Grind into a fine powder using a mortar and pestle. Add salt and spices and set aside in a medium bowl. Remove 2 teaspoons of spice mix and place into a small bowl along with the tentacles and set aside.
Stuff the squid with the pearl barley risotto. Coat the squid in olive oil then coat in spice mix. Heat a large frypan over medium high heat. Add squid and cook for 3 minutes, turning every 30 seconds. Once flesh is white, remove from pan and set aside.
Heat 60ml of oil in frypan over high heat. Add potato flour to tentacles and spice and toss gently to coat. Fry for 1-2 minutes until white and cooked through. Drain on kitchen paper.
For the Green Salad, mix all ingredients in a bowl and toss gently.
To serve, place some green herb sauce on the base of each serving plate. Add 3 slices of sliced squid and some fried tentacles to each plate. Add some Green Herb Salad and garnish with shaved parmesan.