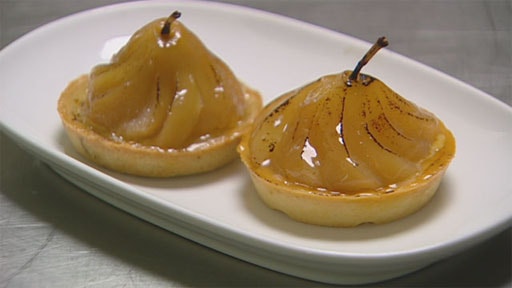 Steps
Sweet Dough
Cream the butter, sugar and salt in a bowl. Add vanilla bean seeds and beat until fluffy. Add egg and mix to combine. Add almond meal and flour and mix until mixture forms a dough.
Place between two sheets of cling wrap, flatten and refrigerate for 2 hours to rest.
Flour bench, lay pastry on top and dust again with flour. Roll to a desired thickness and prick well with a fork. Cut rounds with a 12cm cookie cutter and lay into 10cm diameter tartlet cases. Gently press into tins to fit and roll over tartlets with a rolling pin to trim edges. Refrigerate for 1 hour.
Bake at 160°C for approximately 20-25 minutes or until golden.
Pear Frangipane Tart
Preheat oven to 160⁰C.
Pour wine into a large saucepan, add honey, sugar, bay leaves, star anise, and pepper corns and bring to the boil. Add water and pears, cover, reduce heat to low and simmer for 30-60 minutes or until tender. Cook time will vary depending on pear size, the larger the pear the longer the cook time.
For the frangipane, mix butter, sugar, yolk, almonds, flour and rum until light and fluffy.
Fill tarts with a little frangipane and bake for 10 minutes.
Using a melon baller or teaspoon measure scoop out the base of the pear to remove the seeds and some of the core. Using a small knife slice vertical cuts all around the pear and then twist the pear so that the bottom edges fan out a little.
Place one pear on each tart and bake for 20 minutes.