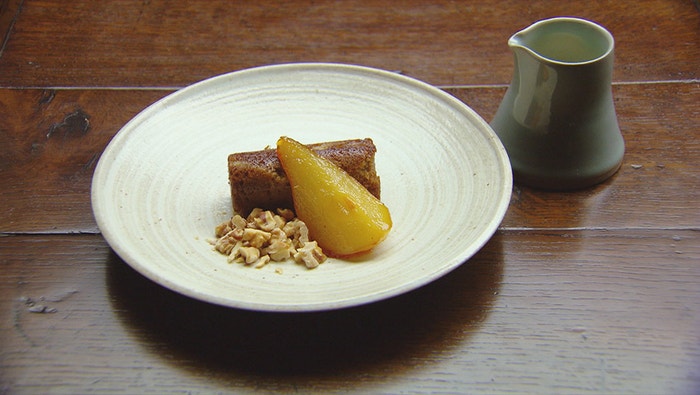 Steps
For the Pear and Ginger Cake, lightly spray 8 x 10cm long rectangular / mini loaf cake tins with canola spray and set aside.
Place the sugar and butter into the bowl of a stand mixer fitted with a paddle attachment and beat until light and fluffy.
Add the eggs one at a time and beat well after each addition. Add the golden syrup and mix to combine.
Remove the bowl from the mixer and sift in the flour, spices and bicarb soda. Fold through gently.
Add the pear, a pinch of salt and 160ml hot water and fold through until just combined.
Pour into prepared tins and bake until cooked through, about 20 minutes. Remove from the oven and place the tins on a wire rack for 5 minutes. Invert cakes onto wire rack.
For the Caramelised Pears, place the sugar into a deep medium frypan and place over medium heat. Add the sugar and melt until amber in colour.
Carefully add 100ml water and whisk until combined.
Add the pears and cook for 10 minutes then turn pears and cook until tender and caramelised, a further 10 minutes. Remove from the heat.
For the Lemon Verbena Custard, place the cream, milk and lemon verbena in a medium saucepan over low heat. Bring to just below boiling point then remove from the heat and allow to infuse for 10 minutes.
Transfer to a blender and process until smooth. Strain through a fine sieve and return to the saucepan. Bring to a simmer over low heat.
Meanwhile, place the yolks and sugar into the bowl of an electric mixer fitted with a whisk attachment. Whisk together until pale and fluffy. While whisking continuously, slowly pour the lemon verbena mixture into the bowl and whisk to combine.
Return mixture to the saucepan and cook over low heat, stirring continuously, until mixture reaches 84C. Remove from heat. Pour through a fine sieve into a pouring jug and cover surface with cling film.
To serve, place the Pear and Ginger Cakes into shallow serving bowls, top with some Caramelised Pear and walnuts. Pour some hot Lemon Verbena Custard around the cakes and serve immediately.