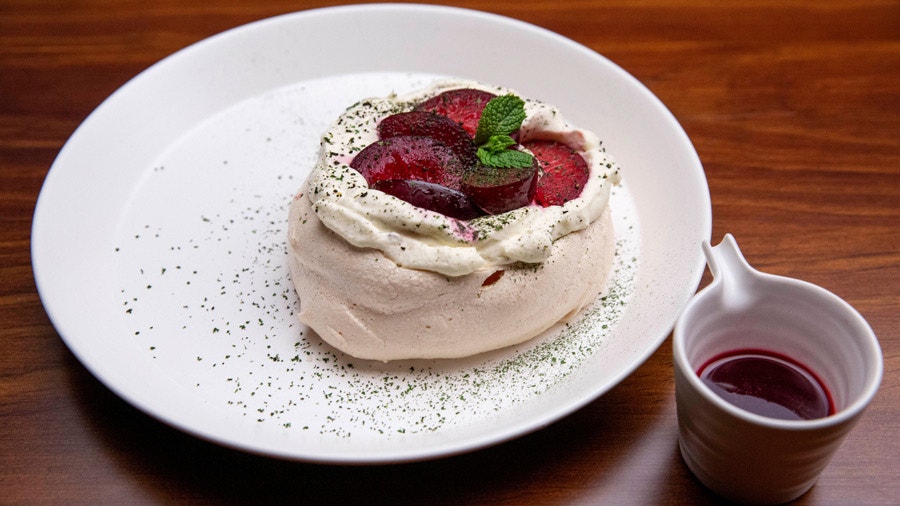 Steps
Preheat oven to 180C. Line a large tray with baking paper.
For the Pavlova Shells, place the egg whites into the bowl of an electric stand mixer fitted with a whisk attachment. Whisk on high speed until soft peaks form. With the motor running, add the sugar gradually to the egg whites and continue to whisk until the sugar has dissolved and the meringue is thick and glossy.
Spoon 4 mounds of meringue onto the lined tray. Using the back of the spoon, spread the meringues out slightly into a circle, creating peaks around the outer edge and a cavity in the centre.
Reduce the oven to 150C then place the meringues into the oven for 35 minutes.
Turn off the oven and allow meringues cool in the oven for at least 30 minutes or overnight, if possible. Remove from the oven and store in a dry place until required.
For the Vanilla Cream, combine the cream and sugar in a medium bowl. Add the vanilla pod and seeds and set aside in the fridge to infuse for 10 minutes.
Remove the vanilla pod and whisk the cream with an electric whisk until soft peaks form.
Transfer to a piping bag fitted with a large round nozzle and place into the fridge until required.
For the Smoked Plums in Syrup, cut plums into quarters and place into a medium bowl. Discard the stones. Cover the bowl with cling film and insert the nozzle of the smoking gun through a small opening. Fill the bowl with smoke for 10 seconds. Remove the hose and quickly reseal the bowl to capture the smoke. Set aside to infuse for 3-4 minutes.
Transfer half of the smoked plums to a small saucepan along with the sugar, vanilla pod and ½ cup of water. Place over a low heat and simmer until the plums break down and a thick syrup forms. Pass the syrup through a sieve into a medium bowl.
Toss the remaining smoked plums gently in the syrup. Remove the plums from the syrup and place onto a plate. Sprinkle lightly with salt and set aside in the fridge to chill until serving. Transfer the remaining syrup to a small serving jug.
For the Mint Dust, lay 2 pieces of kitchen towel onto a plate and arrange mint leaves in a single layer over the paper.
Place into the microwave and cook on high in 10 second intervals until the mint is dehydrated and crispy.
Remove from the microwave and place into a fine sieve. Set aside.
To serve, pipe a small amount of Vanilla Cream into the centre of each serving plate. Place a pavlova on top of the cream. Pipe Vanilla Cream into the cavity of each pavlova and top with the plums. Lightly crush the dry mint leaves in the sieve over the pavlovas. Garnish with fresh baby mint leaves and serve with the jug of syrup on the side.