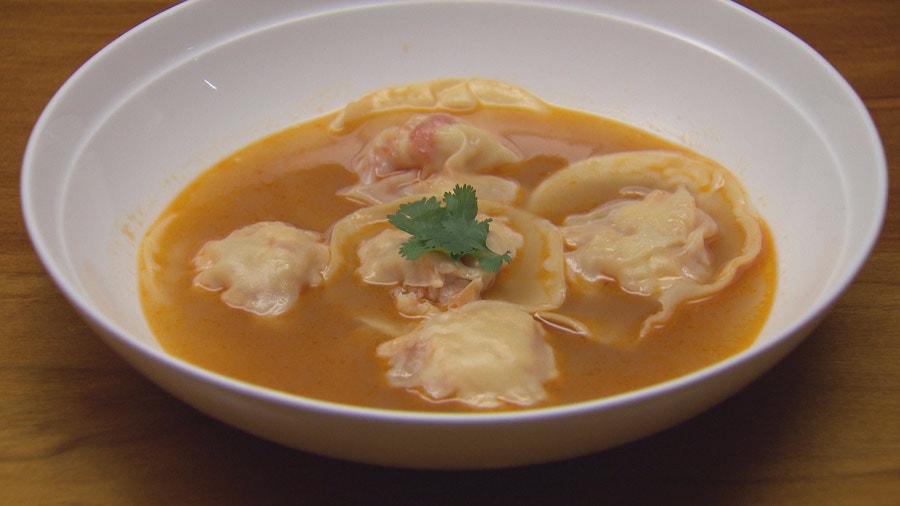 Steps
Place flour, yolks, 1 teaspoon oil and salt in a food processor and pulse to combine. Slowly add enough water (about ¼ cup) to make it come together. Transfer to a floured bench and knead until a smooth dough. Wrap in plastic wrap and set aside to rest.
Place 1 tablespoon olive oil in a saucepan and set over high heat. Add carrot and coriander and fry for 1-2 minutes. Add lobster head and shells and fry until orange. Add port and cook for 1 minute to cook off alcohol. Add 4 tomatoes, roughly chopped, and fry for 1 minute. Add 1.5 litres water and bring to a boil. Allow to boil until reduced, about 45 minutes. Remove from heat, strain and set aside, keeping warm.
Finely dice lobster tail meat. Place 2 tablespoons olive oil in a frypan and set over medium heat. Add chopped lobster meat, remaining 2 tomatoes, finely chopped, season and cook until lobster is cooked through. Remove from heat and set aside to cool.
Roll pasta dough through a pasta machine to the thinnest setting. Lay one sheet of dough on a floured bench. Place tablespoons of lobster filling along dough, top with another layer of dough and gently press around filling to seal. Using a 6.5 cm pastry cutter, cut out ravioli. Repeat with remaining dough and filling until 20 ravioli have been made.
Bring a large saucepan of water to a boil over high heat. Add ravioli and cook until al dente, about 3 minutes. Remove from water.
To serve place ravioli in a bowl. Add lobster broth to the bowl. Garnish with coriander leaves and season.