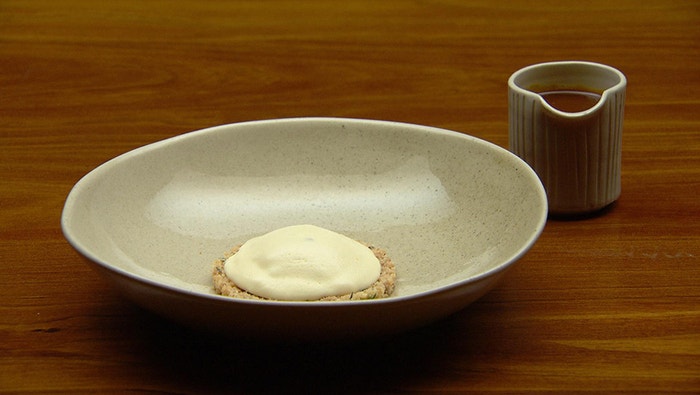 Steps
Preheat oven to 180C.
For the Passionfruit Semifreddo, strain the passionfruit pulp through a fine sieve to extract 60ml juice. Reserve half of the pips.
Place egg, egg yolk and sugar in a bowl and place over a saucepan of simmering water. Whisk until light and fluffy, about 5 to 7 minutes. Remove from heat, add the passionfruit juice and pips, then place over a bowl of ice and whisk until cool.
Meanwhile, whip the cream to stiff peaks and set aside until required.
Once the passionfruit mix has cooled down gently fold in the cream until completely incorporated. Spoon mix into 6 x 7cm silicone dome moulds, scrape tops level and set aside in freezer until set and ready to serve.
For the Thyme Crumb, place flour, butter, and sugar into a food processor and process until the mixture comes together. Turn out onto baking paper and roll out to approximately 2mm thick. Place on a baking tray and in the oven to bake until golden brown, about 15 minutes. Remove from oven and set aside to cool.
Once cooled, break up to a crumb consistency and stir through thyme leaves. Set aside until serving.
For the Salted Caramel Sauce, melt the sugar in a small saucepan over medium heat, As the sugar starts turning a caramel colour around the edges swirl the saucepan slightly. Continue until the sugar has completely melted and turned a dark caramel colour, about 10 minutes. Remove from heat and whisk in butter then cream. Add the salt, to taste, and whisk through. Set aside, keeping warm, until serving.
To serve, place a 7cm ring mould onto the serving plate, sprinkle the Thyme Crumb into the mould to produce a 1mm thick disc, remove the ring mould. Take the Passionfruit Semifreddo from the freezer, unmould and place on top of the crumb. Serve with the Salted Caramel Sauce in a jug on the side.