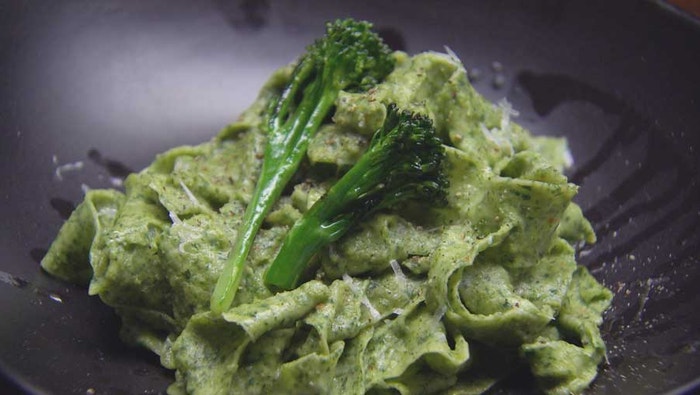 Steps
To make the pasta dough, bring a saucepan of lightly salted water to the boil and blanch parsley leaves for 30 seconds. Refresh in iced water and drain well on paper towel to remove all the moisture and thoroughly dry the leaves.
Place dried parsley leaves with flour, semolina and salt in a food processor and blitz until well combined. Add eggs one at a time and process until dough comes together. Roll out onto a floured surface and knead for 5 minutes. Cover with cling film and rest in fridge for 30 minutes.
To make the sauce sauté garlic and shallot in a little olive oil. Add broccoli and toss well. Add stock and simmer until broccoli is tender. Strain and reserve stock. Transfer broccoli to blender and process, adding just enough reserved stock until a thick smooth sauce is made. Add pecorino cheese, lemon juice and rind, cream and basil and process until smooth. Pass through a fine sieve into a large frypan. Season and set aside.
Roll pasta through pasta machine then cut into 2cm wide strips for pappardelle. Cook pappardelle in salted boiling water for 30 seconds, drain and add to the broccoli sauce. Toss gently to coat pasta. Serve with extra pecorino.