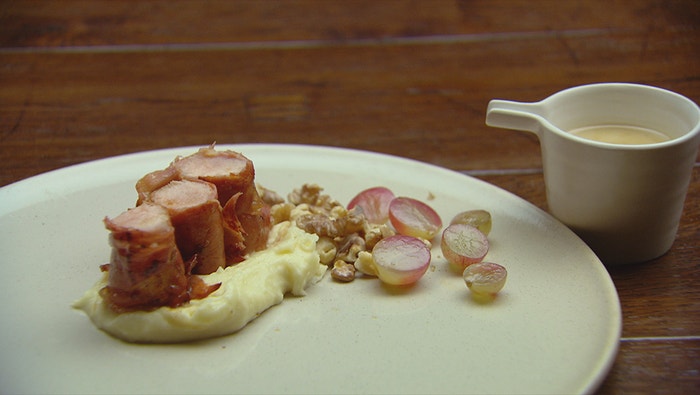 Steps
Preheat oven to 180C.
For the Pickled Grapes, place the sugar, vinegar and 100ml water in a small saucepan and place over high heat. Stir until the sugar dissolves.
Add the grapes and remove from the heat. Set aside to pickle for 30 minutes then drain well.
For the White Wine Sauce, place a medium deep frypan over medium high heat. Add the rabbit bones and thyme and cook until browned.
Add the wine to the pan and reduce until liquid has almost evaporated.
Add the stock, reduce the heat to low and simmer until thickened, about 15 - 20 minutes.
Strain through a fine sieve into a clean saucepan. Season with salt and pepper and set aside, covered to keep warm. Return to the boil before serving.
For the Potato Puree, place potatoes into a small saucepan of salted water. Place over medium heat and bring to the boil. Reduce to a simmer and cook until tender, about 25 minutes.
Drain well and pass the potatoes through a potato ricer fitted with a fine mashing attachment.
Mix in the butter and season with the salt and pepper, to taste.
For the Prosciutto Wrapped Rabbit Loin, lay a sheet of cling film onto the bench. Lay slices of prosciutto on cling film with long edges just overlapping.
Place the rabbit across the prosciutto and using the cling film, roll into a tight cylinder. Remove the cling film.
Place a large frypan over medium heat. Add the oil and when hot, add the wrapped rabbit loin and cook until just cooked, about 3 minutes.
Remove from the pan and allow to rest. To serve, cut each loin into 6 portions.
To serve, place a generous spoonful of Potato Puree onto each plate. Top with three pieces of rabbit. Arrange walnuts and some fresh and pickled grapes around the plate. Drizzle with the hot jus.