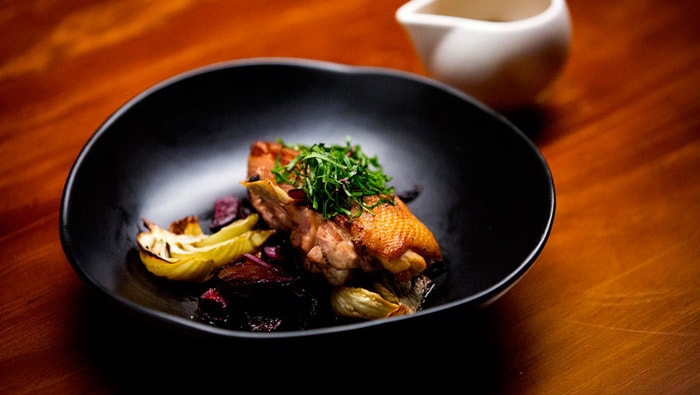 Steps
Preheat oven to 200C.
For the Roasted Beetroot, peel skins leaving 1 cm of stalk in tact. Quarter beetroots and place in small heavy baking tray along with 30g butter. Season well and bake until tender, about 45 minutes. Remove from oven and set aside.
For the Roasted Fennel, place fennel (reserving 3 slices for the Stuffed Mushrooms) in small shallow baking tray, drizzle with grapeseed oil and season. Roast until tender and golden, about 30 minutes. Remove from oven and set aside.
For the Pan Seared Duck Breasts brush with 1 tablespoon of the ginger wine and season well. Place breasts, skin side down, into a cold large frypan. Place frypan over a low heat and cook until breast is crisp, about 7-8 minutes. Transfer duck to a warm plate, skin side up and set aside. Reserve duck fat in pan.
For the Stuffed Mushrooms, prepare cornflakes by blitzing in a food processor to a coarse crumb. Heat pan containing reserved duck fat and add cornflake crumbs. Season and cook for 2 minutes until crispy. Set aside on paper towel until required.
Wipe out frypan with some paper towel then add reserved fennel and cook over medium heat until golden. Add butter and ginger wine and cook for 1 minute until reduced. Discard fennel and reserve butter in pan. Top mushrooms with cornflake crumbs then fennel infused butter. Bake until mushrooms are tender, about 30 minutes.
Return duck breasts to oven for 8 minutes or until cooked to your liking. Remove from heat and rest for 5 minutes. To serve, divide roasted fennel between plates. Top with rested duck breast. Arrange the roasted beetroot around plate and add stuffed mushrooms.