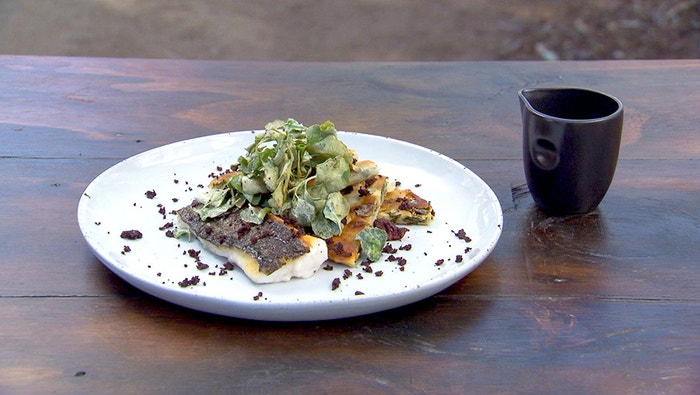 Steps
Preheat oven to 170°C.
For the Dehydrated Black Olives, place olive halves onto a baking tray lined with baking paper and bake in the pre-heated oven until dehydrated, about 40 – 45 minutes. Once dry, remove from oven and set aside 24 halves for garnish. Grind remainder of the dried olives to a powder with a mortar and pestle and set aside until needed.
For the Orange Sauce, place chopped cod bones and heads in a roasting pan. Drizzle with the oil and toss to coat. Roast in the pre-heated oven until golden, about 35-40 minutes.
Remove the roasting pan form the oven. Place the orange juice and vinegar in a jug, along with 160ml of water. Pour the liquid into the hot pan to deglaze, scraping the boootm of the pan and pressing down the fish bones as you stir to extract as much flavour as possible.
Strain the stock through a fine sieve, discarding the solids. Transfer the strained sauce to a serving jug and set aside, keeping warm, until needed.
For the Fried Saltbush Leaves, heat the oil in a medium saucepan to 180°C.
Add the saltbush leaves and fry until crispy, about 45 – 50 seconds. Remove from oil and set aside to drain on kitchen paper until needed.
For the Saltbush Cakes, place flour in a medium bowl. Make a well in the centre then add ½ cup hot water and mix to form a dough; adding a little more water if the dough is too dry. Turn the dough out onto a lightly floured bench and knead for 5 minutes until smooth. Cover with cling wrap and set aside to rest for 15-20 minutes.
Once rested, divide the dough into 4 and roll each portion out to 3mm thick rectangle. Spread ½ tablespoon of butter over each portion, sprinkle over a generous amount of saltbush and season with salt to taste. Roll each piece of dough along the long side into a sausage shape, then roll the sausage into itself to form an escargot shape. Flatten out each escargot slightly with a rolling pin or the palm of your hand to 1 cm thick.
Preheat a large frying pan over medium heat. Add 1 tablespoon extra butter to the pan and, once bubbling, add 2 Saltbush Cakes. Cook on each side until golden and crispy, about 3 minutes. Drain on paper towel. Repeat cooking process with remaining 2 Saltbush Cakes. Transfer cooked Saltbush Cakes to a plate, cover and keep warm until needed.
For the Pan-fried Murray Cod, preheat about 3 tablespoons of oil in large non-stick frying pan over medium-high heat. Season the fish skin with a little salt and fry, skin side down, until skin is crisp, about 4 – 5 minutes. Flip fillet and cook on the other side for a further 10 seconds, remove from pan and set aside, keeping warm, until needed. Cook fish in 2 batches, if necessary.
To serve, place one fillet of cod, skin side up, onto each serving plate. Cut Saltbush Cakes in half and arrange 2 halves next to the fish o each plate. Top with dehydrated olive powder and reserved dried olive halves. Garnish with Fried Saltbush Leaves. Serve with Orange Sauce on the side.