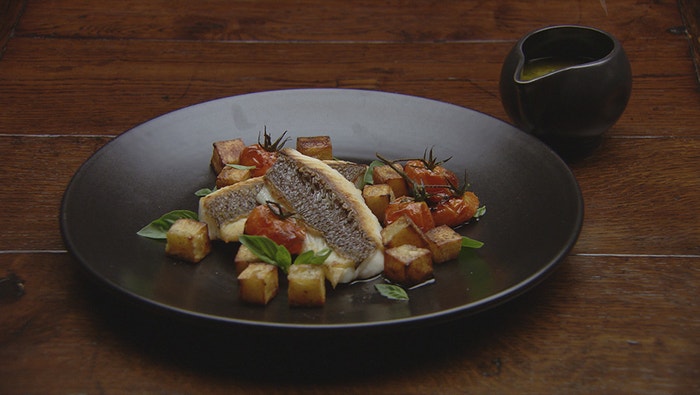 Steps
Preheat oven to 180C.
For the Roasted Tomatoes, place the tomatoes onto a non-stick baking tray, drizzle with oil and season with salt and pepper.
Place into the oven and cook until the tomatoes have caramelised and collapsed, about 50 minutes.
Remove from the oven and cut the stems into smaller lengths to serve. Set aside.
For the Crispy Potatoes, cut the potatoes into 2cm cubes.
Place the potato cubes into a non-stick roasting dish with 3 slices lemon and half of the chopped garlic.
Add the olive oil and toss the potatoes to coat in the oil. Season with salt. Place into the oven and cook for 20 minutes.
Remove the lemon and garlic from the pan and cook until tender and lightly golden, a further 15-20 minutes. Remove from the oven.
Place the butter into a deep sauté pan over a low heat. Once melted, add the potatoes along with the remaining garlic and a few strips of lemon rind. Continuously spoon the butter over potatoes until they are golden and crispy.
Remove potatoes from the pan, season with salt and set aside.
For the Salsa Verde, place the olive oil, anchovies, garlic and half of the lemon zest and capers into a food processor or large mortar and process to a smooth paste. Transfer to a bowl.
Add the remaining ingredients and stir well to combine. Season with salt to taste. Pour into a jug and set aside.
For the Snapper Fillets, salt the skin of each snapper fillet and set aside for 10 minutes.
To cook, heat a large non-stick frypan over medium high heat. Add the oil and when hot, place the fillets into the pan, skin side down, and cover with an aluminium pizza tray.
Cook until the skin is crispy and golden and the flesh is cooked approximately 3/4 of the way through. Turn fillets and cook for a further minute. Remove from the pan and place into the centre of each plate to serve.
Add some Roasted Tomatoes and potatoes. Garnish with basil leaves and the jug of Salsa Verde on the side.