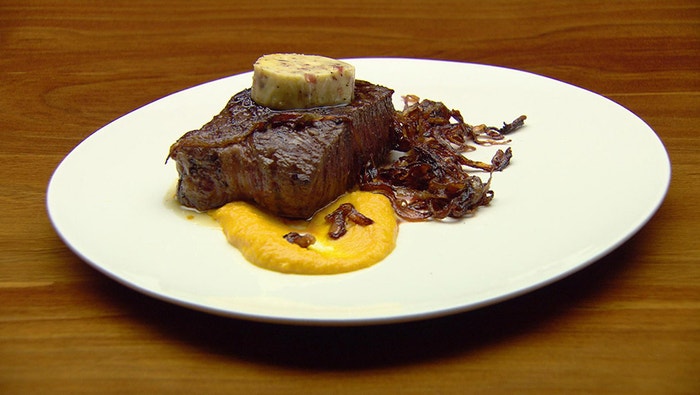 Steps
For the Anchovy Butter, roughly chop the anchovies and place in a small bowl. Add remaining ingredients and mix to combine. Place onto a length of cling film and roll into a log, securing ends. Set aside, in freezer until hard.
For the Caramelised Onion, place guanciale into a small frypan and cook over a low heat until oil is released. Remove solids from pan and discard. Add onions, salt and pepper to the remaining oil and cook until soft and caramelised, about 25-30 minutes. Remove from heat and set aside until serving.
For the Smoked Carrot Puree, bring a small saucepan of water to a boil. Peel carrots and cut into even sized pieces. Place in the boiling water and simmer until soft. Drain water then add butter and salt to the saucepan. Using a stick blender, puree until smooth. Pass through a fine sieve into a deep bowl and cover tightly with cling film.
Release cling film in a small area and, using a smoking gun, fill the bowl with smoke. Remove nozzle and reseal cling film tightly. Set aside to infuse for 5 minutes for a mild smoky flavour or up to 20 minutes for a more intense flavour.
For the Pan Fried Rump, heat a grill pan over high heat. Brush steak with oil and season with salt and pepper. Place on the hot pan and cook 2 minutes on each side for medium rare, depending on the thickness of the steak, or longer until cooked to your liking. Remove steak from pan and rest for 10-15 minutes before serving.
To serve, spread the Smoked Carrot Puree onto each serving plate. Add Pan Fried Rump and Caramelised Onion. Slice Anchovy Butter into 4 and place on the rump.