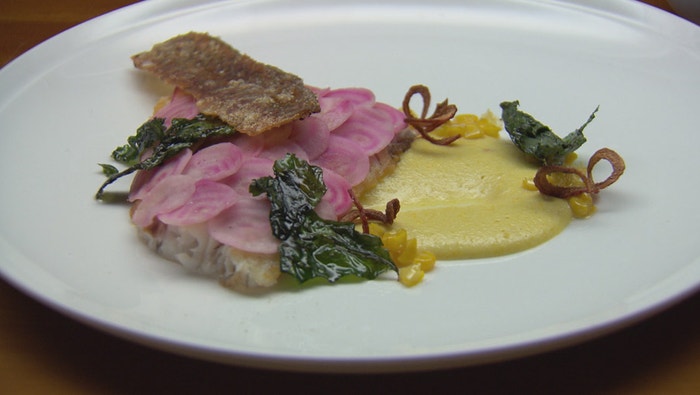 Steps
Preheat oven to 180C.
Spread miso paste onto silicon baking mat to a 2mm thickness and cook for 10 minutes until miso is dark brown. Remove from oven and set aside.
For the fish stock, use a cleaver to chop barramundi carcasses into small pieces and place in a large saucepan. Add 375ml water, or until fish bones are covered, and simmer over a low heat.
Meanwhile, remove the corn kernels from cob and reserve the kernels until needed. Chop the bare cobs into small pieces and add to the fish stock. Simmer the stock for for 20 minutes. Strain through a fine sieve into a clean saucepan and set aside, keeping warm, until needed.
Using a mandolin, slice target beetroot thinly. Using a 2cm round cutter, cut discs of beetroot from each slice, reserving all beetroot offcuts. Place discs into saucepan with the sugar, vinegar, lime juice, salt and 2 tablespoons of water and bring to the boil.
Once mixture is boiling, remove from heat and set aside to pickle.
Spread beetroot leaves on a baking tray lined with baking paper. Drizzle with oil, salt and pepper and toss to coat thoroughly. Bake in the pre-heated oven for 10-15 minutes or until leaves are crisp.
Fry beetroot offcuts in grapeseed oil until crisp and set aside on kitchen paper to drain until needed.
Remove the skin from the barramundi fillets. Place the skin on a baking tray lined with baking paper, season and top with another layer of baking paper and another baking tray on top, to keep the skin flat. Bake the skin until crisp, about 20-25 minutes. Remove from oven and set aside until ready to serve.
For the corn puree, reserve about ½ cup of the corn kernels and place the remaining kernels in a frypan. Add 1 tablespoon butter and sauté corn for 2 minutes. Add ¾ cup fish stock and simmer until the corn is soft, adding more stock if required.
Place corn and frypan cooking liquid in a small food processor, add the cream and blend until smooth. Season with salt to taste. Pass puree through a fine sieve and set aside until needed.
Take the reserved corn kernels and sauté in a frypan with a little grape seed oil until cooked through. Season with salt and set aside until needed.
For the miso sauce, remove burnt miso from the silicon baking mat and transfer to a food processor, along with 4 tablespoon fish stock, 4 tablespoons hot water, remaining 2 teaspoons vinegar and 1 tablespoon sugar. Blend until smooth. Add 2 tablespoons butter and blend until butter is dissolved and emulsified. Strain sauce and keep warm until needed.
To serve, heat a frypan with oil on high heat. Season the barramundi fillets with salt and place in frypan. Immediately reduce heat to medium and fry barramundi for 4-5 minutes on one side. Flip barramundi and cook for a further 20 seconds on the other side. Take pan off the heat and rest in the pan for 2-3 minutes.
Place a spoonful of corn puree onto plate and use the back of the spoon to smear. Place barramundi fillets on one side of serving plates. Scatter with corn kernels, fried beetroot and beetroot leaves. Lay pickled beetroot on barramundi fillets in a scale pattern. Add crispy skin and burnt miso sauce.