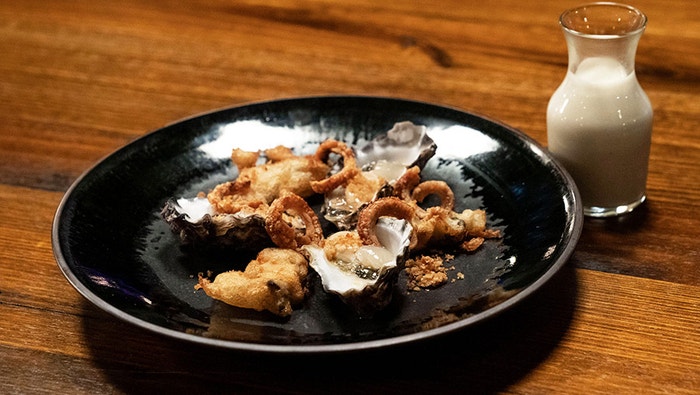 Steps
Prepare an ice bath in a medium bowl. Preheat oil in a medium saucepan to 180C.
For the Lychee Granita, peel the lychees and remove the seeds. Place the flesh into a small food processor and process until smooth. Pass through a fine sieve into a small bowl and discard the solids.
Add the vinegar, sugar and 1 tablespoon water and stir until sugar has dissolved.
Pour mixture into a 20cm square baking tin and place into the freezer. Allow to freeze, scraping the surface with a fork occasionally to break up the granita as it is forming.
For the Creamy Crab Sauce, bring a medium saucepan of water to the boil. Add the crab, return to a boil then cook for 7 minutes. Remove the crab and place into the ice bath to cool.
Once cold, cut the crab in half and remove the meat, discarding shell and gills. Set aside.
Place the egg, vinegar and olive oil into the canister of a stick blender. Process until thickened then add the grapeseed oil in a thin stream until emulsified. Add the crab meat and process until smooth. Season with salt and pepper and set aside in the fridge until required for serving.
For the Crispy Pork Skin, slice the pork skin into thin slices and sprinkle with salt. Set aside for 5-10 minutes then pat dry with a paper towel.
Place the skin into the hot oil and cook until golden and crispy, about 1 minute. Remove from the oil and place onto paper towel. Season with salt and set aside for serving.
For the Oysters, shuck the oysters. Keep 12 oysters in their shells and return to the fridge until serving. Remove the remaining 12 from their shells and place into a small bowl.
For the batter, place the flours, beer, salt and pepper into a small bowl and whisk until smooth.
Dip the shelled oysters into the batter then fry in the hot oil until golden and crisp. Remove from the oil and set aside on paper towel. Sprinkle lightly with salt.
To serve, place the fresh and battered oysters onto the serving plates. Crush half of the Crispy Pork Skin over the fresh oysters and place the remaining over the battered oysters. Place a lychee cheek and a spoonful of granita onto the fresh oysters. Serve with the Creamy Crab Sauce on the side.