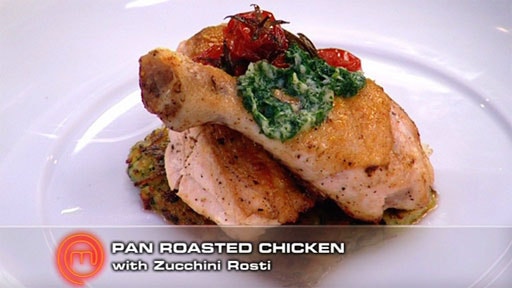 Steps
Pre heat oven to 200˚C.
Remove the breast and drumstick from whole chicken, keeping skin on, drizzle with a little olive oil and season with salt and pepper. Heat a frying pan over high heat, add chicken portions and brown on both sides, add garlic bulb to the pan and place in oven to cook for 10 minutes. Add cherry tomatoes and rosemary to the pan and cook for a further 10-15 minutes or until chicken is cooked through.
Squeeze half of the roasted garlic into a bowl, add the butter and parsley, season with salt and pepper, mix to combine well.
Spoon butter mixture onto cling wrap, roll into a sausage shape about 3cm in diameter and tie a knot at each end, place in the fridge to chill.
Squeeze out excess liquid from the grated potato and zucchini, place in a bowl with the remaining garlic and season with salt and pepper.
Heat oil in a frying pan over medium heat, take a ¼ cup of potato mixture (makes three fritters) and form a flat fritter, cook for 5-6 minutes each side or until golden.
To serve place a fritter on a plate, top with the chicken portions, arrange the roast tomatoes on top with 2 slices of the parsley butter.