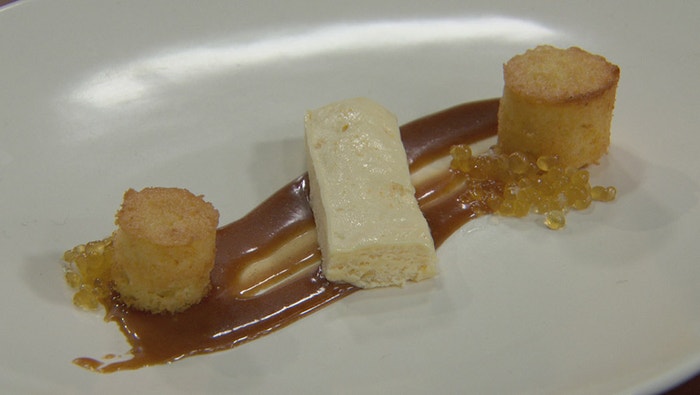 Steps
Preheat oven to 170C. Grease and line an 18cm square cake tin with baking paper and line a 9cm x 19cm loaf tin with baking paper. Place vegetable oil for the Marmalade Pearls into a tall narrow canister and place in freezer to chill.
For the Orange Parfait, combine egg yolks and sugar in a medium bowl and place over saucepan of simmering water. Whisk until thick and pale, then add orange zest. Remove from heat. Strain into bowl set over an ice bath. Meanwhile, whip cream in large bowl of electric mixer. Fold cooled egg mixture into whipped cream and mix gently. Transfer to a syphon gun and charge twice. Shake well then dispense into prepared loaf tin. Smooth top of parfait and place into freezer to set.
For the Orange Cake, whisk eggs, sugar and zest until thick and pale. Beat in oil then fold in sifted flour. Spread into prepared square tin and bake for 25 minutes until lightly golden. Remove from oven and set aside in tin for 10 minutes then invert onto a cooling rack. When cool, use a 3cm round cutter to cut rounds from cake. Set aside.
For the Marmalade Pearls, place marmalade into small pan with 100ml water and bring to boil. Vigorously whisk in agar agar and simmer gently for 3 minutes then pass through a fine sieve. Cool slightly then transfer mixture to a large syringe. Remove oil from freezer and dispense marmalade gel, one drop at a time, into oil, moving continuously over oil to ensure drops remain separated. Carefully strain oil through a fine sieve and reserve pearls. Set pearls aside on kitchen paper.
For the Marmalade Caramel, place sugar in a medium frypan and melt until golden brown. Remove from heat and whisk in butter and cream. Add marmalade and cardamom and whisk to combine.
To serve, spread Marmalade Caramel lengthways onto serving plates. Place Orange Cake at either end of caramel, along with some Marmalade Pearls. Add a slice of Orange Parfait and serve immediately.