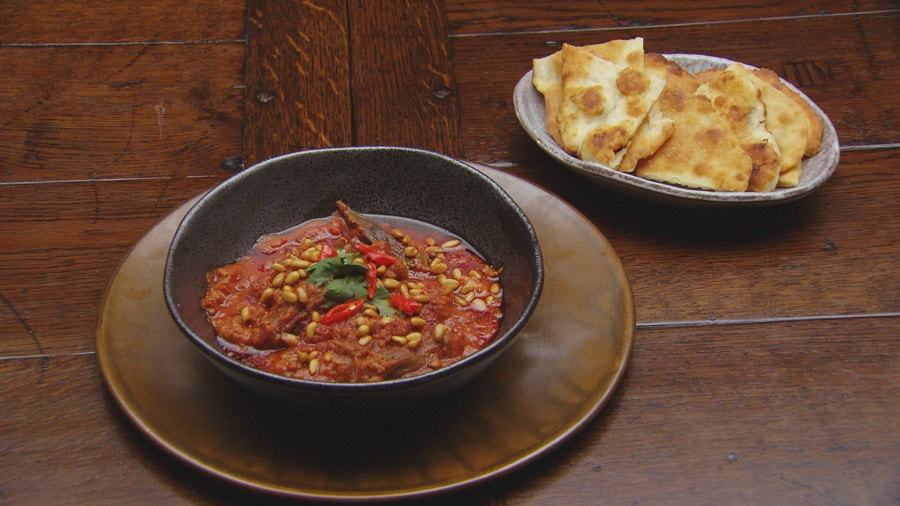 Steps
For the Bimya, place 2 tablespoons of oil into a medium frypan and place over a medium heat. When hot, add the okra and fry until slightly tender but not browned, about 5 minutes. Remove from the pan and set aside on a plate.
Place 2 teaspoons of oil into the frypan. Add the onion, garlic and cumin and cook, stirring, until soft and translucent, about 5-6 minutes.
Add the beef mince and cook, stirring and breaking up lumps, until browned. Add the passata, tomato paste and smoked paprika. Simmer for a further 5 minutes.
Return the okra to the pan along with the lemon juice and ½ cup water. Simmer until sauce has reduced slightly. Season with salt and pepper. Remove from the heat and keep warm.
For the Flatbread, place the flour and yoghurt into a medium bowl, along with a pinch of salt and sugar. Mix until a soft dough has formed.
Dust flour over a clean work surface. Divide the dough into 8, roll into balls then roll out to thin circles.
Add some oil and the garlic into a large non-stick frypan and place over a medium high heat.
Once hot, fry dough until golden brown, about 2 minutes on each side. Remove from the frypan and set aside on paper towel to remove excess oil. Repeat with remaining dough, adding more oil to the frypan as required.
To serve, place Bamia into a large serving bowl and garnish with toasted pinenuts, chilli and coriander. Serve with the Flatbreads on the side.