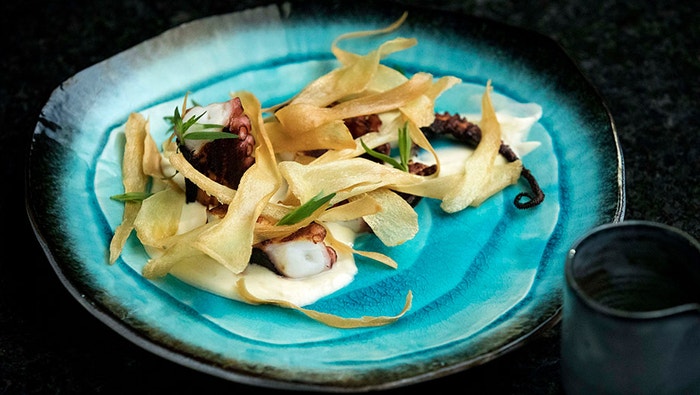 Steps
Preheat sous vide machine to 90C. Fill and turn deep fryer on to 180C.
For the Octopus, put the tentacles into a vacuum bag with star anise, black peppercorns, bay leaves, olive oil and a pinch of sea salt. Seal the bag and gently place in the sous vide machine to cook for 40 minutes.
For the Cauliflower Purée, place a medium saucepan of water over high heat and bring to the boil. Add the cauliflower and cook until tender, about 20-25 minutes. Drain the cauliflower and place into a blender with 100g of the butter, milk, salt and pepper. Blend until smooth, about 3 minutes then pass through a fine sieve into a clean saucepan and place over low heat. Add the leftover butter and cook, stirring occasionally for a further 5 minutes. Season with salt and black pepper to taste.
For the Parsnip Chips, peel the skin off the parsnip, then use a vegetable peeler to shave the parsnip into thin ribbons. Place the ribbons into a bowl of water and soak for 5 minutes. Strain and pat dry with paper towel. Once the deep fryer is at temperature fry the parsnip chips until golden, will take 3 to 4 minutes. Remove, drain on paper towel and season well with salt.
For the Tarragon Sauce, place 4 tablespoons of the olive oil, tarragon leaves and a pinch of salt into a mortar and pestle. Grind until a smooth, green oily paste is achieved. Strain through fine sieve into a Thermomix, gently pressing down on the tarragon pulp to release the oil. Add lemon juice and remaining olive oil and process for 3 minutes on high speed until foamy. Strain into a clean serving jug in the fridge and set aside to settle.
To finish cooking the Octopus, preheat the char grill over high heat. Once the octopus is ready, open the vacuum bag and grill octopus until char marks appear on all sides, about 2-3 minutes.
To serve, spoon some of the Cauliflower Purèe onto the serving plate. Cut the Octopus into 5 pieces and arrange it around the purée. Grab a handful of Parsnip Chips and place on top of the octopus. Remove the sauce from the fridge and stir to re-emulsify. Pour a little sauce over the octopus immediately before serving. Garnish with micro tarragon.