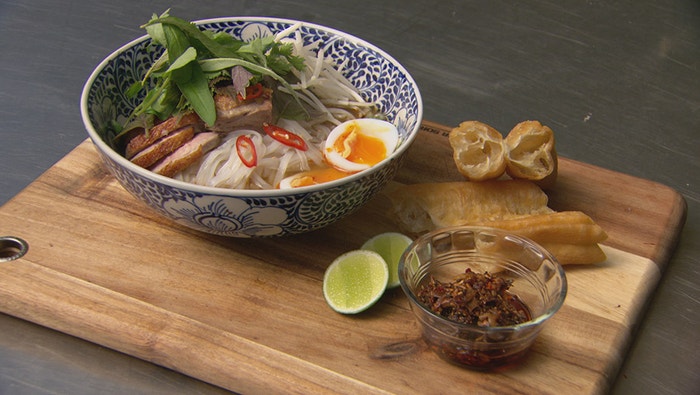 Steps
Preheat oven to 140C.
Prepare duck legs by removing breast fillets and setting aside in fridge. Remove legs and place into a small baking dish along with 1 of the star anise, ½ of the cassia bark sticks and 500ml of the hot chicken stock. Cover and cook for 75 minutes until tender. Remove from oven, strain and set legs aside in fridge.
Increase oven to 180C.
Chop duck bones into very small pieces then place in roasting pan and cook in oven for 40 minutes until browned and crisp.
Remove from oven and transfer to a large stock pot and cover with remaining chicken stock. Bring to boil then reduce to a simmer.
Meanwhile, heat up a small coal barbeque, or alternatively, place a wire rack over an open flame. Char grill eschallots, chilli and ginger, turning until toasted. Place into stock with cassia bark, cardamom and star anise. Simmer stock for 20 minutes.
Strain stock through muslin cloth to remove any particles, season with fish sauce taste. Keep hot.
Meanwhile, to prepare for the chilli sauce, heat vegetable oil in a medium saucepan to 170C.
Fry garlic in hot oil for 2 minutes until golden. Remove garlic using a fine strainer then drain on a tray lined with paper towel. Repeat with eschallots, dried shrimp, long red and dried chillies. Turn off heat and set saucepan of oil aside to cool.
Allow fried ingredients to cool then transfer to a food processor and blend with sugar and up to 300ml of the reserved cooking oil to make a coarse paste. Cover and set aside.
Bring a small saucepan of water to the boil. Place duck eggs into water and cook for 6 minutes. Run eggs under cold water and set aside until ready to serve.
Season reserved duck breasts on both sides then place into a cold, large oven proof frying pan and place on a low heat. Add duck legs, skin side down, then cook for 3 minutes to render skin. Turn duck pieces and place pan into oven and cook for 8 minutes. Remove from oven and allow to rest for 5 minutes. Slice breasts into 8 and legs in half. Set aside.
Prepare rice noodles according to package instructions, refresh in cold water and set aside.
To serve, divide noodles between serving bowls. Ladle hot stock between bowls. Add 4 slices duck breast, 1 piece duck leg and 1 egg cut in half, per bowl. Top with herbs and bean shoots, serve with chilli sauce, lime cheeks, Chinese doughnuts and some sliced red chilli.