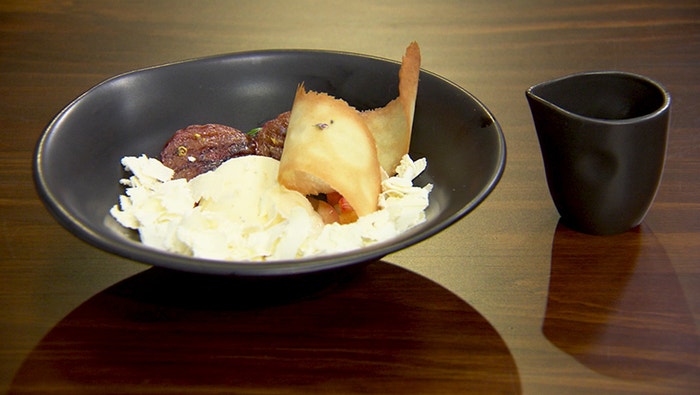 Steps
Preheat oven to 180°C and pre-chill ice cream machine.
For the Coconut Shavings, line a loaf tin with baking paper and set aside.
Place milk, cream and sugar into a medium saucepan over high heat and bring to the boil, stirring occasionally. Meanwhile, place coconut milk powder into a large bowl. Once milk and cream mixture is boiling, pour onto coconut milk powder and whisk well until smooth. Pass mixture through a fine sieve into a clean bowl and set over an ice bath to cool to 3°C.
Place mixture into the bowl of a stand mixer fitted with a whisk attachment. Add the double cream and whisk until soft peaks form. Pour mixture into the prepared loaf tin and level off with an offset metal spatula. Place into the freezer until firm.
For the Grilled Nectarines, place griddle pan onto a medium heat and when hot add butter. Cut cheeks from the nectarine and place flesh side down and cook for 5-6 minutes or until dark golden. Transfer pan to oven for 8-10 minutes to cook the nectarines down to a soft, jammy consistency. Remove from oven and set aside.
For the Pickled Nectarine, place all ingredients except nectarines into a small saucepan and place over a low heat. Stir until sugar is dissolved and vinegar is warm. Pour into a glass bowl and add sliced nectarine. Set aside for 25-30 minutes before draining on paper towel. Set aside.
For the Lemon and Rosemary Ice Cream, whisk all ingredients well in a large bowl until combined. Transfer to an ice cream machine and churn according to manufacturer's directions. Place ice cream into freezer.
For the Lemon and Rosemary Syrup, place ingredients into a small saucepan with 200ml water, heat to dissolve sugar then cook over a low heat for 20 minutes or until reduced to a thick syrupy consistency. Strain into a small serving jug.
For the Coconut Tuille, mix all ingredients well to form a thick paste. On a silicon mat, smear a very thin layer of the mixture, tidying up the edges by using the sides of an offset spatula to create a long, narrow rectangle around 15 x 5 cm. Bake for 7-8 minutes or until lightly golden. Remove from oven and while still hot, gently remove from silicon mat and wrap around a rolling pin to create a spiral effect. Leave wrapped around rolling pin until cool. Repeat with remaining mixture.
To serve, place drained Pickled and fresh nectarine in base of each serving bowl. Place a scoop of Lemon and Rosemary Ice Cream on top. Place the two Grilled Nectarine cheeks along one side and the Coconut Tuile on the other. Prepare a bowl of liquid nitrogen. Remove loaf tin from freezer, lift out Coconut shavings block and working quickly, shave block using a mandolin into the bowl of liquid nitrogen.
Garnish with freshly picked rosemary flowers and serve Lemon and Rosemary Syrup on the side and serve immediately.