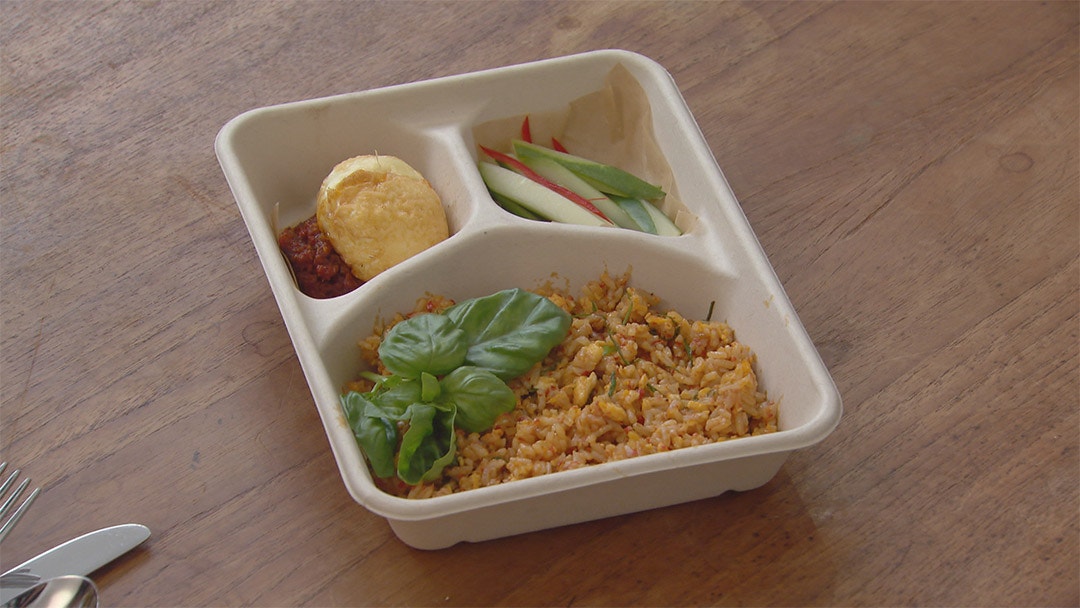 Steps
For the Pickled Cucumber, place all ingredients except cucumber into a bowl. Whisk to combine and set aside in the fridge.
Cut cucumbers in half and scrape out the seeds. Use a mandolin or vegetable peeler to shave the cucumbers into strips. Place into pickling liquid and set aside in the fridge for 20 minutes. Drain well and pat dry to serve.
For the Nasi Goreng, place vegetable stock and rice into a pressure cooker. Cook on rice setting until tender. Alternatively, cook on stove top in rice cooker according to package instructions. Drain rice and spread out onto a large tray and fluff with a fork. Set aside to cool to room temperature.
For the Red Sambal, place chillies into a food processor and pulse to a rough paste.
Place a small non-stick frypan onto low heat. Add rice bran oil and chillies and cook until soft. Place garlic into the food processor and pulse until finely chopped. Add to chillies along with belacan and cook until fragrant and soft, about 2 minutes. Add the vinegar, sugar and salt to taste, stirring continuously to avoid sambal caramelising. Remove from the heat and set aside.
To finish the Nasi Goreng, place a wok over medium heat. Add oil, shallots and garlic and cook, stirring, until soft but not coloured. Remove from the wok.
Reduce heat to low. Place eggs and a small amount of water into a bowl and whisk together. Add to the wok and use a spatula to gently scramble and break up into smaller pieces. Add rice and 2-3 teaspoons Red Sambal and carefully toss with a flat steel spatula. Season with sugar and salt and sprinkle through thinly sliced spring onion.
Place frying pan over low heat. Add oil and when hot, add quail eggs and cook until white is set and yolk still runny. Season with salt.
To serve, place Nasi Goreng into large ring moulds on serving plates then remove the mould. Add some Red Sambal and quail eggs. Add rolls of Pickled Cucumber and garnish with garlic flowers and micro basil.