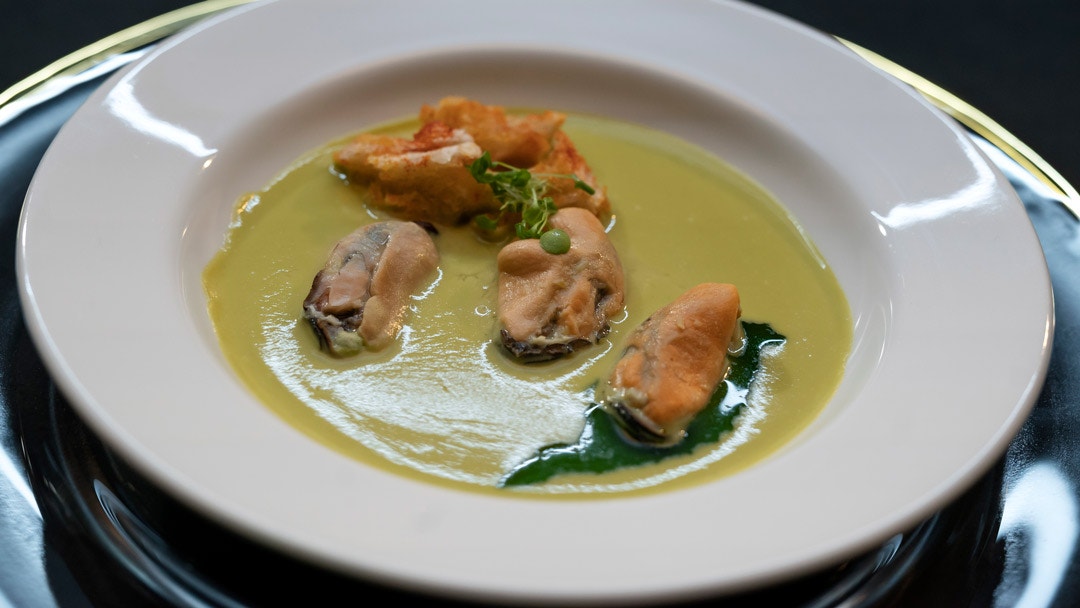 Ingredients
Mussel, Pea and Horseradish Soup
Steps
Preheat oven to 180°C fan forced.
For the Mussels, place butter and olive oil in a large heavy based saucepan with the shallot, garlic, leek and parsley stems. Sauté for 5 minutes over high heat, then add the wine and mussels. Cover with a lid and cook for a few minutes or until mussels open. Remove mussels and place on a tray.
To finish the soup, add the peas, fish stock and water to the saucepan. Bring to the boil then reduce the heat and simmer for 5 minutes or until peas are tender. Remove from heat and add horseradish to taste, then season with the white soy, salt and pepper, to taste.
Process with a stick blender or in a heat proof blender until very smooth. Cover and set aside in a warm place.
For the Croutons, place the sourdough onto an oven tray and drizzle with the olive oil. Sprinkle with paprika and salt, then bake in oven until golden, around 15 minutes. Set aside to cool slightly then tear into chunks and set aside in a warm place.
For the Rosemary and Dill Oil, place ingredients into a blender and blend on high speed for 7-10 minutes. Strain through a muslin cloth and set aside.
To assemble, divide soup amongst 8 serving bowls. Arrange mussels in the soup. Drizzle some herb oil around the soup and top with croutons and micro herbs. Serve with lemon wedges on the side.